Skip to main content
https://svpworldwide.widen.net/content/r5w7jvkcbv/jpeg/M1000_3_1_webb-image.jpeg?position=c&color=ffffffff&quality=80&u=xyrryw/upload/q_auto,f_auto/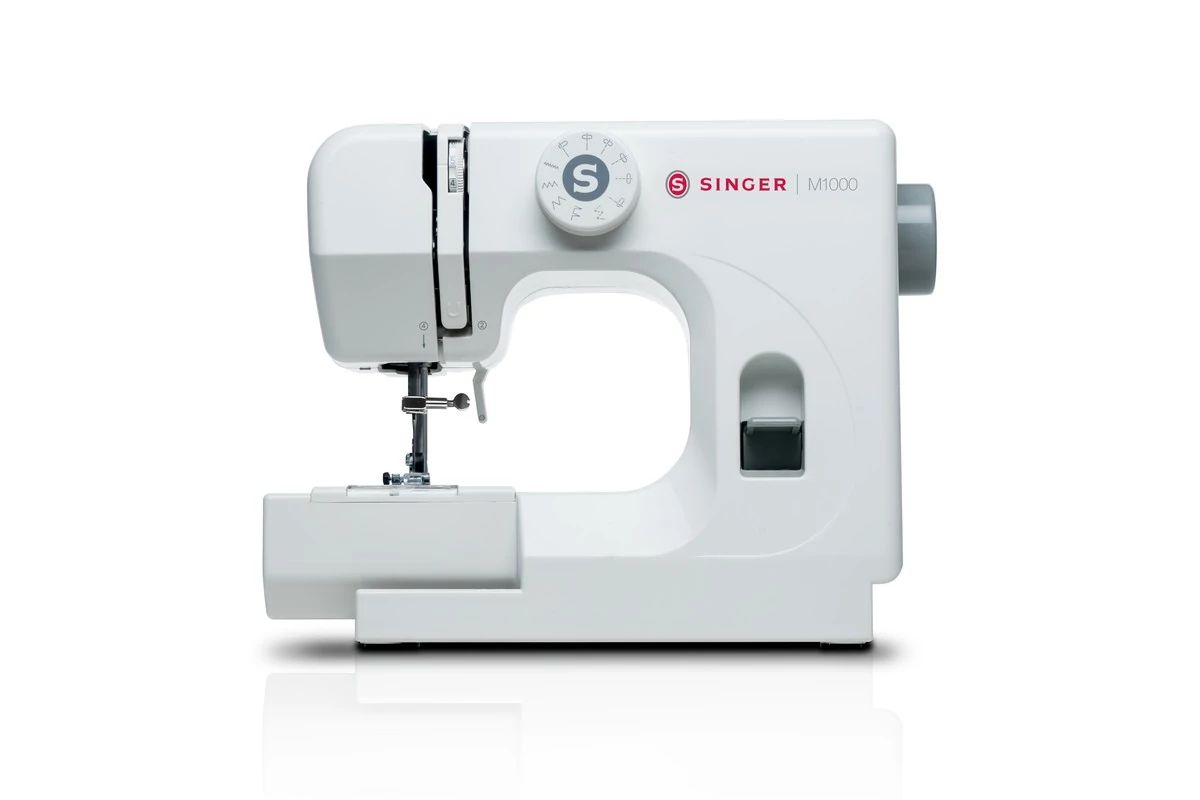 Added to Wishlist
M1000 Mending Machine
Free Shipping & Returns
(continental US)
Made for basic mending and repairs, the compact SINGER® M1000 machine is a good option for simpler sewing tasks at an affordable price. Shop compatible accessories
$25 included accessories
32 Stitch Applications to cover your basic sewing needs
Repair seams and create durable hems
Lightweight and portable, great for small spaces & easy to store!
Top drop-in bobbin to easily insert & monitor bobbin thread supply
Free arm to mend hems and cuffs with ease
4.25" sewing space (needle to tower) and 3.75" height
Use SINGER Class 15 Transparent bobbins
The SINGER® M1000 mending machine is only 5.5lbs (2.5kg), making it a lightweight, portable sidekick for the sewist-on-the-go! An affordable machine with easy set-up, a portable size, preset stitch settings, and 32 stitch applications that will assist you with simpler mending and garment repairs. For thicker fabrics and more applications, a full-size machine is recommended.
32 Essential Stitch Applications:
Straight Stitch - with options for different stitch lengths and needle positions
Zigzag - wide, medium and narrow sizes
Multi-step Zigzag - for elastic insertion, seam finishing, or decorative stitches
Blindhem Stitch - for blind hemming
---
32 Stitch Applications
A stitch application is a specific technique you can do with a selected stitch. Click below to see the complete listing of Stitch Applications for this sewing machine.
M1000 Stitch Applications Guide
Included Accessories ($25 value)
All-Purpose Foot, Extra Needle, Bobbins: Class 15 (transparent), Manual Needle Threader
---
Stitch Applications (32)
A Stitch Application simply means a specific sewing technique that you can do with a selected stitch. Basically, Stitch Applications are all the different things you can actually DO with your machine!
Built-In Stitches (4)
Choose from a variety of stitches for basic sewing, decorative sewing, and more
Top Drop In Bobbin (+)
Easy to thread and easy to see! The transparent bobbin and cover allow you to monitor your thread supply so you don't run out of thread in the middle of a seam.
Easy Stitch Selection Dial (+)
Built-in stitches are displayed on the Stitch Selector Dial. Simply turn the dial to select the stitch you want to sew.
Adjustable Tension (+)
Threads should be balanced in the fabric when stitches form. The machine's tension control allows for adjusting the threads to fine-tune the look of the stitch, depending on the fabric and thread being used.
Reverse (Lever)
Sew stitches in reverse, usually done to secure a seam at the beginning and end to prevent unraveling.
Free Arm (+)
Slide off the Removable Storage Compartment for access to the free arm, making it easy to sew trouser hems, sleeve cuffs and other smaller or tubular projects
Extra High Presser Foot Lifter (+)
Presser foot has an extra high position available to accommodate thick fabrics.
Sewing Space (Needle to Tower) (4.25")
The distance between the needle and the main part of the machine. Having a generous "C" space allows you to sew larger projects like quilts with ease.
Bobbin Class (15 Transparent)
SINGER or INSPIRA branded bobbins are recommended for best results
Warranty (1yr / 25 yr)
Find Complete Warranty Terms Here
---
---
---
---