Skip to main content
Home > Machines > Computerized
https://svpworldwide.widen.net/content/6cyv559gdo/jpeg/SC220_Beauty.jpeg?position=c&color=ffffffff&quality=80&u=xyrryw/upload/q_auto,f_auto/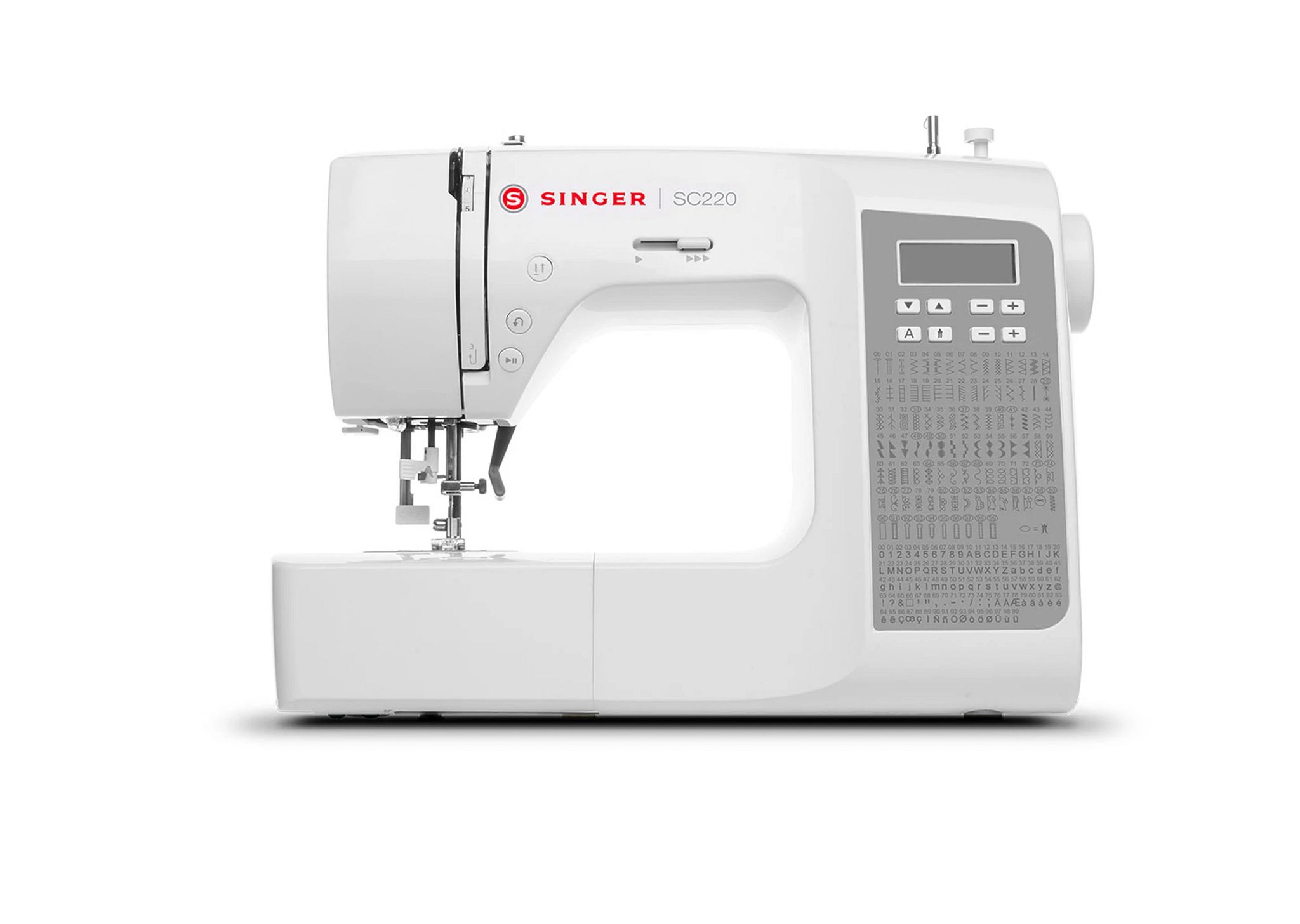 Added to Wishlist
SC220 Sewing Machine Refurbished
Free Shipping & Returns
(continental US)
Whether you're just starting out or you're a more experienced sewist, the SINGER® SC220 sewing machine helps make sewing easier than ever. Your machine may come pre-threaded for your convenience. Accessories included are located in the storage area at the front of your machine.
Refurbished: 100% inspected & sew tested to meet SINGER Factory Testing standards
$75 Included accessories
200 Stitch Applications
9 Fully automatic one-step buttonholes
Built-in needle threader
StayBright LED
Variable stitch length and width
The SINGER SC220 is packed with features to conquer all of your complex sewing needs. With 200 built-in stitch options and 9x 1-step buttonholes the SC220 is packed full of features to start you sewing at a professional level. The built-in needle threader provides an easy set-up and when combined with the controllable speed and a start/stop button anyone can use this versatile machine. Fonts and letters included you can even monogram!
---
200 Stitch Applications
A stitch application is a specific technique you can do with a selected stitch.
Included Accessories ($75 value)
General All Purpose foot, Zipper foot, Buttonhole foot, Needles, Bobbins, Spool caps, Auxiliary spool pin, Spool pin felt, Darning plate, Needle plate, Screwdriver, Seam ripper/link brush, Soft sided cover.
---
Stitch Applications (200)
A Stitch Application simply means a specific sewing technique that you can do with a selected stitch. Basically, Stitch Applications are all the different things you can actually DO with your machine!
Built-In Lettering (1)
Personalize projects with words, phrases or monograms
One-Step Buttonhole (9)
Buttonholes are sewn in one easy step. Just place the button in the buttonhole foot and the machine sews a buttonhole perfectly sized for that button, delivering consistent results every time.
Built-In Needle Threader (+)
Effortlessly threads the eye of the needle - eliminates eye strain and saves you time
Top Drop In Bobbin (+)
Easy to thread and easy to see! The transparent bobbin and cover allow you to monitor your thread supply so you don't run out of thread in the middle of a seam.
Tie-Off Button (+)
Immediately tie-off the stitch and stop sewing automatically. You can even program the machine to perform the tie-off at the end of a stitch before you start to sew.
Drop Feed (+)
Feed teeth can be lowered for button sewing or free-motion sewing - a must-have for quilters! Simply slide the Drop Feed Lever to lower the feed teeth. Slide it back and turn the handwheel one full turn to raise the feed teeth again.
Adjustable Stitch Length (+)
Customize the appearance of a stitch by increasing or decreasing the distance between stitches. Use this function for various stitch techniques like applique, basting and more.
Adjustable Stitch Width (7mm)
The size of the stitch from left to right is adjustable, to make the stitch sew narrower or wider as desired.
Reverse (Button)
Sew stitches in reverse, usually done to secure a seam at the beginning and end to prevent unraveling.
Heavy Duty Metal Frame (+)
The machine's interior frame is metal, providing long lasting durability
High Speed Stitching (750/min)
Professional speed for faster results.
Speed Control (Slider)
Set the maximum sewing speed of the machine
Start/Stop Button (+)
Allows you to sew without using the foot control, if desired. Press the button to start sewing, then press again to stop sewing.
Programmable Needle Up/Down (+)
Set the needle's stopping position as desired. Press to have the needle stop down in the fabric each time you stop sewing, great for applique, topstitching and more.
Free Arm (+)
Slide off the Removable Storage Compartment for access to the free arm, making it easy to sew trouser hems, sleeve cuffs and other smaller or tubular projects
Machine Cover (Soft Cover)
A cover is provided with your machine to help keep it dust free when not in use
Extra High Presser Foot Lifter (+)
Presser foot has an extra high position available to accommodate thick fabrics.
Variable Needle Positions (+)
Adjust position of needle as desired for various sewing techniques like topstitching, edgestitching, zipper application, piping insertion and more
Twin-Needle Function (+)
For stitches other than the straight stitch, this function reduces stitch width for sewing with a twin needle so the needles clear the presser foot while sewing.
Machine Size (18.1 in x 9.9 in x 13.6 in )
---
---
---
---