Skip to main content
https://svpworldwide.widen.net/content/sosydboj62/jpeg/Embroidery_Hoop_Bundle.jpeg?position=c&color=ffffffff&quality=80&u=0kxhcq/upload/q_auto,f_auto/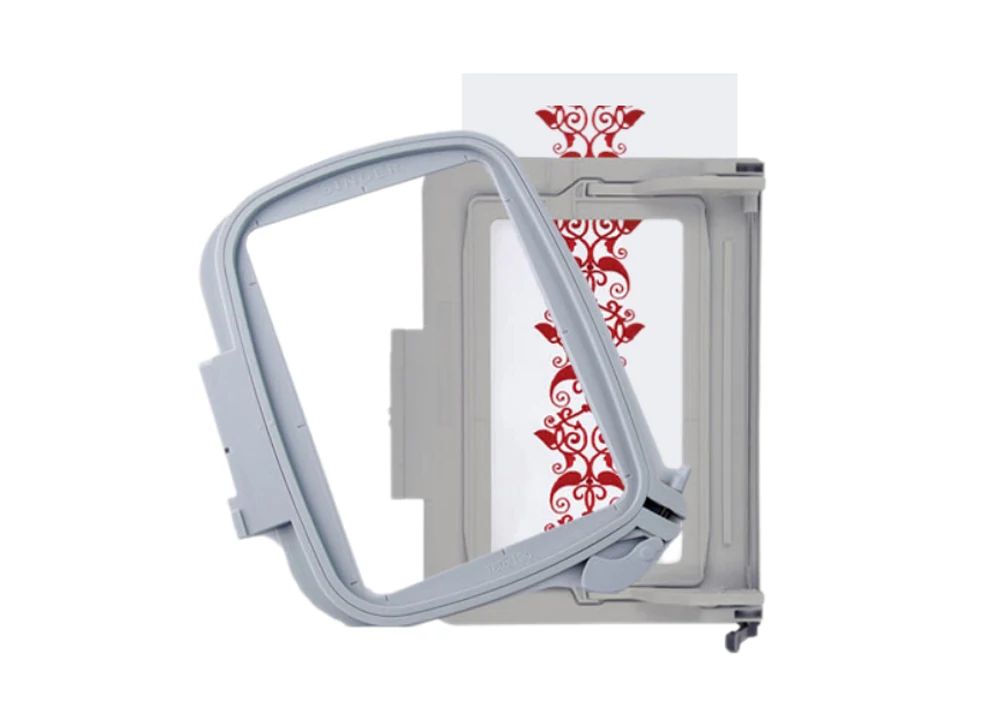 Added to Wishlist
SINGER Embroidery Hoop Bundle
Free Shipping & Returns
(continental US)
2 Hoop Bundle for the Legacy SE340, SE300 and EM200 Embroidery Machines. Includes 5" x 7" Embroidery Hoop and Endless Embroidery Hoop.
Sewing area is 5" x 7" (130mm x 180mm)
Helps eliminate excess use of stabilizer
Sewing area is 7" x 4" (180mm x 100mm)
Works with Legacy SE340, SE300 and EM200
Includes six border designs and six free 5" x 7" embroidery designs
5" x 7" Embroidery Hoop
For best results when doing machine embroidery, it is recommended that you use an embroidery hoop that most closely matches the size of the embroidery design.
Many commercial embroidery designs are designated as 5" x 7" in size. By using a 5" x 7" embroidery hoop for these 5" x 7" designs, your fabric will be held taut and placement on your project will be more precise than when using a hoop too large for the design. In addition, you'll eliminate the use of excess stabilizer(s) that occurs when using a large hoop for these same designs.
Includes six free 5" x 7" designs, available for download.
Endless Embroidery Hoop
To use the Endless Embroidery Hoop, simply place the fabric and stabilizer on the hoop and with one click you have hooped your fabric.
When the hoop is filled with embroidery, one click releases the fabric and stabilizer.
A jump stitch marks the matching point for perfect placement of the next embroidery.
Slide the fabric and stabilizer forward, take one stitch for perfect placement, click the hoop in place and embroider.
---
---
---