Skip to main content
Home > Machines > Computerized
https://svpworldwide.widen.net/content/l7tm8hww3b/jpeg/Singer_SE9180_Sewing_Embroidery_Machine_Hoop_bundle_Beauty_Image.jpeg?position=c&color=ffffffff&quality=80&u=0kxhcq/upload/q_auto,f_auto/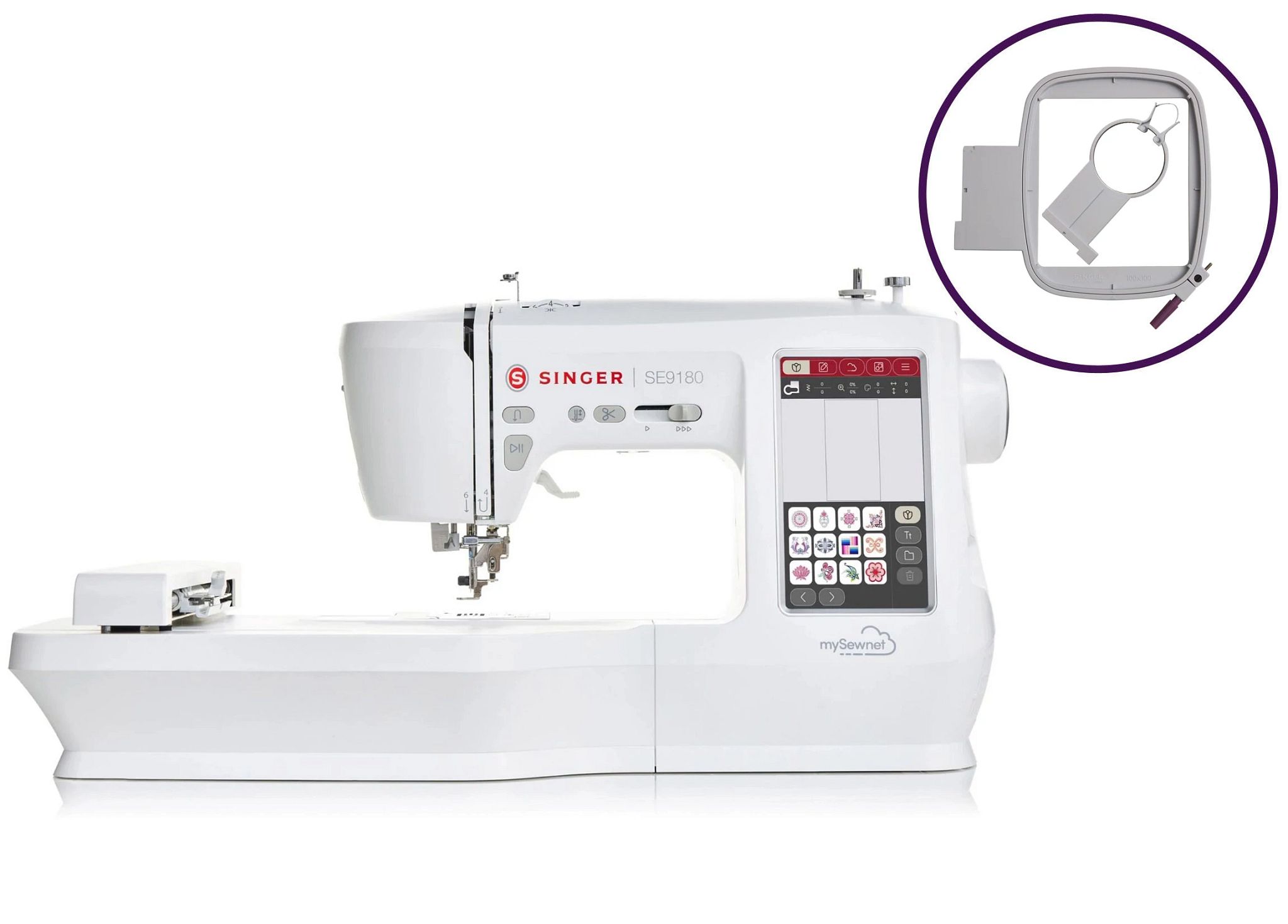 Added to Wishlist
SE9180 Sewing and Embroidery Machine and Hoops Bundle
Free Shipping & Returns
(continental US)
The SE9180 Sewing and Embroidery Machine is loaded with features for all levels of sewers. The mySewnet™ connectivity gives access to a world of possibilities from embroidery progress app notifications, to creating designs from scratch and so much more.
40x40 Round and 100x100 Square Hoops included ($150 value)
$200 additional accessories included
250 sewing stitches plus 150 embroidery designs and 10 fonts

Get all the information you need directly on a large 7" color touch screen

Embroider a variety of projects up to 170x100mm large with the included hoop

Thread the needle quickly and easily with

Automatic Needle Threader
6.5" sewing space (needle to tower) and 4.25" height

mySewnet™ WiFi Connectivity with 90-day free trial of embroidery software and

access to 8,000+ designs

on screen

Connect all mySewnet™ enabled devices to communicate wirelessly between them to transfer designs and monitor your embroidery progress
The SINGER® SE9180 sewing and embroidery machine is loaded with user-friendly features that sewists of all levels love like a large 7" touch screen so you can clearly see what you are stitching, and an automatic needle threader that will get you sewing in no time at all. Also, mySewnet™ connectivity gives you a whole world of possibilities from app notifications of your embroidery progress, to creating designs from scratch and so much more. Plus enjoy a 90-day free-trial of mySewnet software and the mySewnet Library, which has thousands of designs to choose from. With over 150 built-in embroidery designs and over 250 stitches, you get the best of both worlds with the Singer SE9180 sewing and embroidery machine.
Included Accessories
All-Purpose Foot, Decorative Sewing Foot, Zipper Foot, One-Step Buttonhole Foot, Blind Hem Foot, Embroidery/Darning Foot, 170x100mm Embroidery Hoop, 3 Bobbins (SINGER® Class 15 transparent), Spool Caps (3), Spool Pin Felt, Auxiliary Spool Pin, Screwdriver, Brush, Seam Ripper, Pack of Needles, Edge/Quilting Guide, Thread Net, Multi-Purpose Tool, and Stylus
---
Une machine Singer® compatible à mySewnet prend vie avec le logiciel et la bibliothèque mySewnet. Connecter mySewnet à votre machine à broder Singer® — ainsi que vos appareils intelligents—garantit qu'ils travaillent ensemble pour libérer votre créativité. Apprenez-en davantage
---
Stitch Applications (401)
A Stitch Application simply means a specific sewing technique that you can do with a selected stitch. Basically, Stitch Applications are all the different things you can actually DO with your machine!
Embroidery Designs Included (150)
Personalize any project with a large selection of embroidery designs including floral, holiday, children's designs, and crosstitch.
Embroidery Fonts Included (10)
Embroider customized text such as monograms and fun phrases.
Wifi Connectivity (+)
Connect to Wifi via MySewNet for downloads, updates, and more!
Endless Hoop Capability (+)
Sew embroideries that connect end to end, creating borders for fashions, home decor and more. Use included endless embroidery designs, or create your own endless borders in the software on your PC.
Mirror Imaging (+)
Invert stitch patterns from side to side for more creative options
Built-In Stitches (250+)
Choose from a variety of stitches for basic sewing, decorative sewing, and more
One-Step Buttonhole (+)
Buttonholes are sewn in one easy step. Just place the button in the buttonhole foot and the machine sews a buttonhole perfectly sized for that button, delivering consistent results every time.
Built-In Needle Threader (Automatic)
Effortlessly threads the eye of the needle - eliminates eye strain and saves you time
Top Drop In Bobbin (+)
Easy to thread and easy to see! The transparent bobbin and cover allow you to monitor your thread supply so you don't run out of thread in the middle of a seam.
Built-In Thread Cutter (+)
Trim both the top and bobbin threads with the touch of a button. No need to draw up the bobbin thread to start sewing again.
Tie-Off Button (+)
Immediately tie-off the stitch and stop sewing automatically. You can even program the machine to perform the tie-off at the end of a stitch before you start to sew.
Drop Feed (+)
Feed teeth can be lowered for button sewing or free-motion sewing - a must-have for quilters! Simply slide the Drop Feed Lever to lower the feed teeth. Slide it back and turn the handwheel one full turn to raise the feed teeth again.
Reverse (Touch Button)
Sew stitches in reverse, usually done to secure a seam at the beginning and end to prevent unraveling.
High Speed Stitching (Sewing 800/min - Embroidery 450/min)
Professional speed for faster results.
Speed Control (Speed Slider)
Set the maximum sewing speed of the machine
Start/Stop Button (+)
Allows you to sew without using the foot control, if desired. Press the button to start sewing, then press again to stop sewing.
Needle Up/Down (+)
Select the needle's stopping position on demand
Touch Screen (7" Color)
Touch the LCD screen to select stitches and stitch settings, view recommended presser foot and more
Free Arm (+)
Slide off the Removable Storage Compartment for access to the free arm, making it easy to sew trouser hems, sleeve cuffs and other smaller or tubular projects
Variable Needle Positions (+)
Adjust position of needle as desired for various sewing techniques like topstitching, edgestitching, zipper application, piping insertion and more
Sewing Space (Needle to Tower) (6.5")
The distance between the needle and the main part of the machine. Having a generous "C" space allows you to sew larger projects like quilts with ease.
Machine Size (19 x 8 x 12 inches)
Machine Weight (15.5 lbs)
Box Size (22.4 x 15.9 x 17.6 inches)
Watts (45)
Volts (110 or 240)
Warranty (90 day / 2yr / 25yr)
Find Complete Warranty Terms Here
---
---
---
---
Sewing-Made-Easy Videos Below
---