Skip to main content
https://svpworldwide.widen.net/content/fc7ecnrnhq/jpeg/Singer.com_Ditto_-_Main_Image.jpeg?position=c&color=ffffffff&quality=80&u=xyrryw/upload/q_auto,f_auto/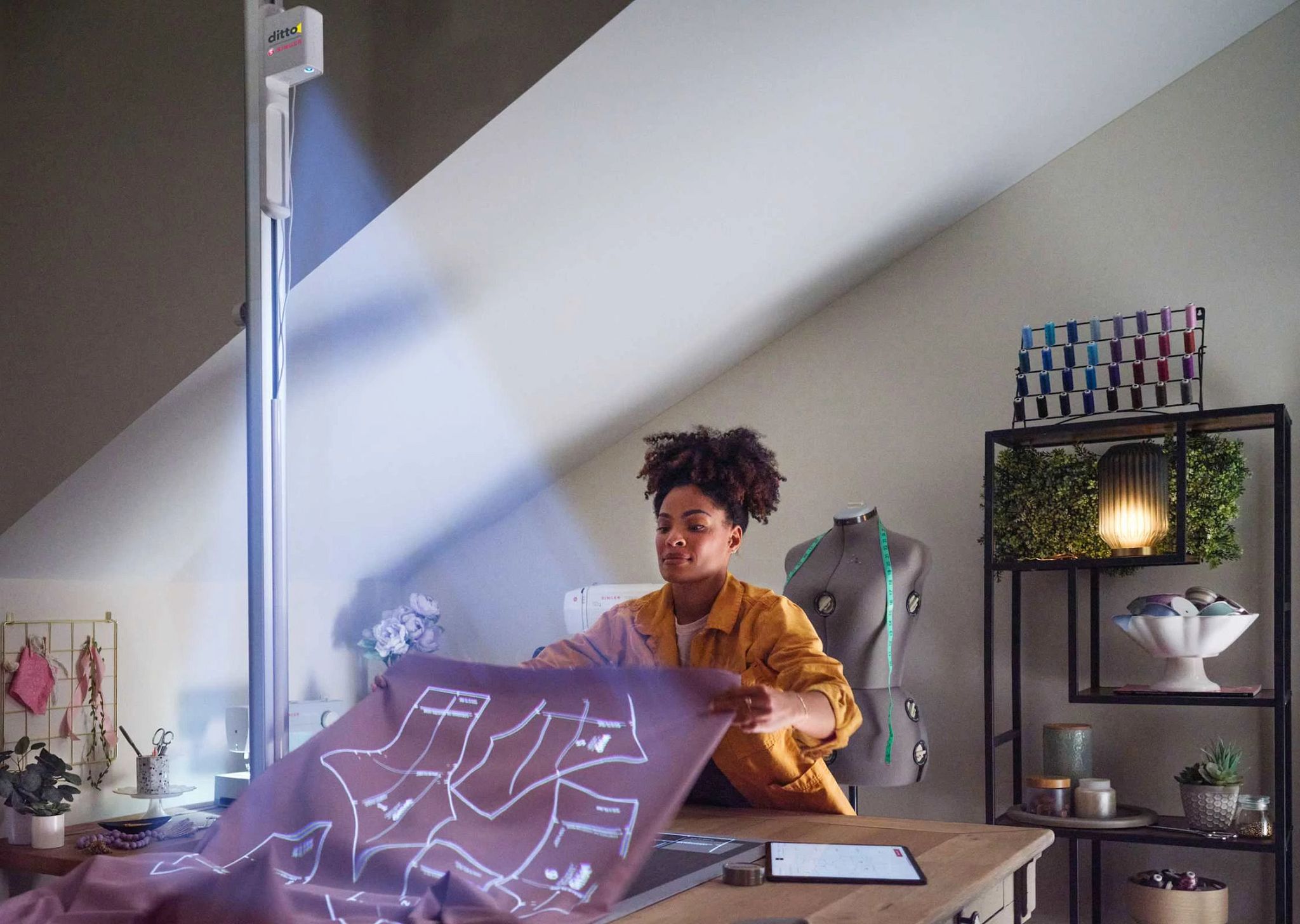 Added to Wishlist
Ditto Pattern Projector
Free Shipping & Returns
(continental US)
---
Say goodbye to paper patterns, pinning, chalking, and worrying about the right fit. Meet Ditto, the digital projection system that eliminates the frustration and errors of traditional paper patterns.
The Ditto Pattern Projector makes it possible to adapt to any body measurement and make design changes on the fly. Simply launch the app and project your personalized pattern onto the included Ditto cutting mat and start cutting fabric in minutes.
Learn how to enable the Bring Your Own Pattern feature here.
Now with Bring Your Own Pattern capability!
Project your pattern onto fabric. No more paper patterns!
Customize digital patterns to fit your body perfectly
Create Your Own Designs
Quick and Easy to Set-Up
Increased Sustainability
Includes projector, 36" x 24" cutting mat, rotary cutter, fabric weights (4), pattern target stickers and access to exclusive ditto app and patterns
Free 3 Month Subscription with Purchase ($30 Value)
Ditto is transforming the world's oldest sewing problem of patterning into a journey of creative simplicity.
In the box you will receive a projector, set up beam, 36x24 inch cutting mat, rotary cutter, fabric weights (4), pattern target stickers, power cord, and cord covers.
Workspace should be a flat area with a minimum width of 37 in x 25 in with the best possible Wi-Fi signal and a power outlet within 10 ft.
Fits in any room with a flat ceiling and a height of 7.5 ft – 10 ft.
Patterns are available digitally through www.DittoPatterns.com for individual purchase or subscription. New patterns are added every month! Free 3 Month Subscription with Purchase ($30 Value)
You will need a tablet (recommended) or smartphone to connect to the Ditto app.
---
Sustainability (+)
Boxes and boxes of patterns. Since everything is digital, you no longer need to add more to that collection. Just Ditto and go.
Perfect Fit, for Every Body (+)
You get a custom fit that is made for your body. Ditto patterns are made to your measurements which take out the guesswork of sizing.
Pattern Library (+)
There are just so many choices! It's actually quite easy to get inspired and excited with thousands of sewing patterns to choose from.
Create Your Own Designs (+)
You think you want ruffles, or maybe another pocket, perhaps flaring out those pants a bit more. With Ditto, it's fast and easy.
It's Quick and Easy to Set-Up & Use (+)
In minutes you can go from box opening to patterning nirvana. No tools or engineering degrees needed.
Saves You Time (+)
It's kind of like magic. Using Ditto compresses hours into minutes. No more pinning, paper or chalking.
Accuracy (+)
It's precise. Very precise. Once you've calibrated your Ditto machine, you can cut with confidence.
---
---
---
---
Sewing-Made-Easy Videos Below
---