Skip to main content
https://svpworldwide.widen.net/content/vv7ppg2jea/jpeg/satin_stitch_front2.jpeg?position=c&color=ffffffff&quality=80&u=xyrryw/upload/q_auto,f_auto/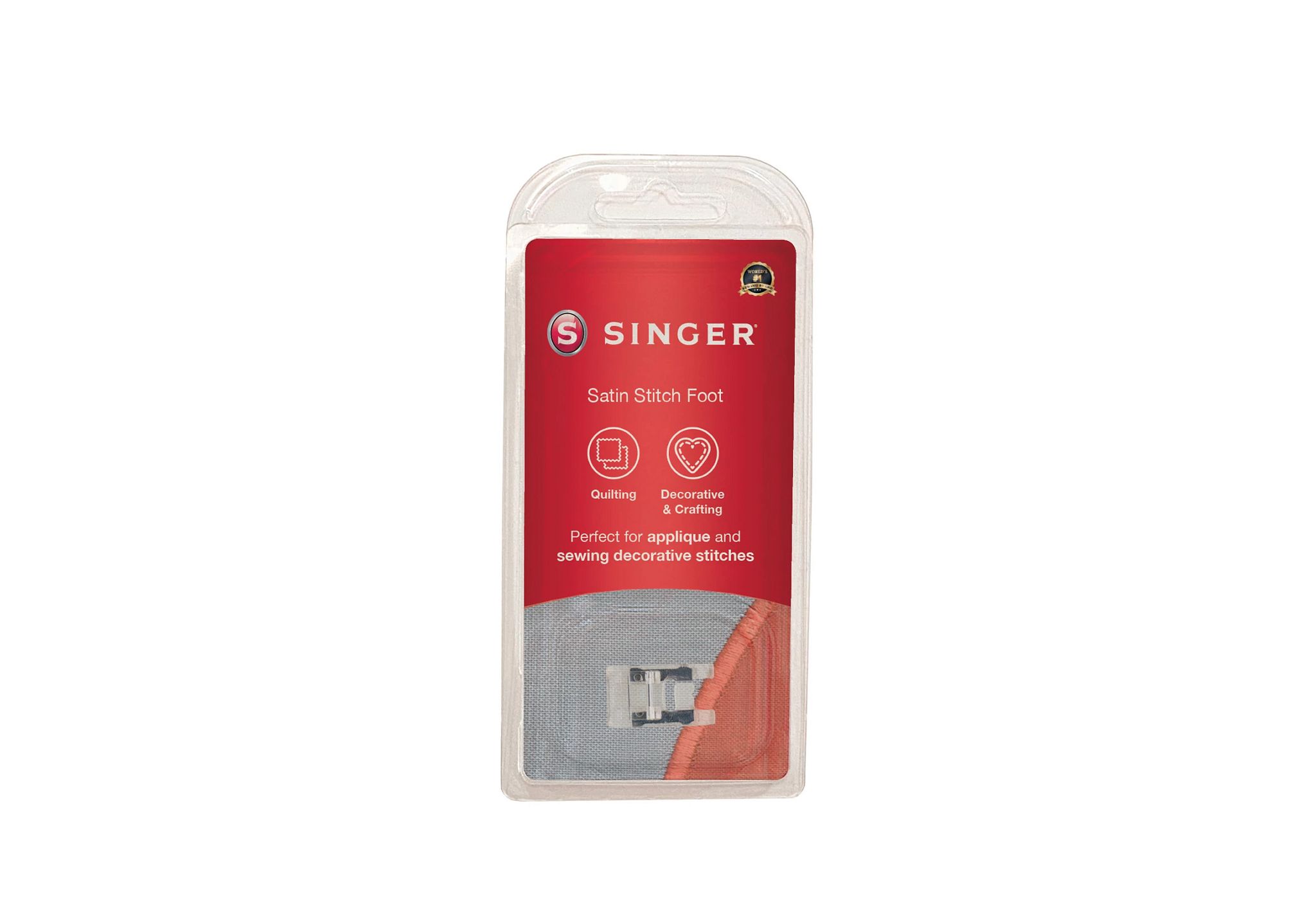 Added to Wishlist
SINGER Satin Stitch Foot
Free Shipping & Returns
(continental US)
Perfect for applique and sewing decorative stitches.
Sew beautiful satin and decorative stitches every time

Groove under the foot helps feed fabric

perfectly

as you sew

Excellent for quilting, decorative and crafting projects

Fits

MA, MB, CA - CC, EA - EC series

(see

Specifications tab for specific models)
Satin and other decorative stitches feed perfectly thanks to the groove underneath the presser foot. Great for applique, decorative stitching and surface embellishment on projects.
---
MA Machine Compatibility (+)
Locust: 1507, 1507WC, 1525/1725, 1748, 8280, 8280L, 8280 SMART II
Mecury I: 1105, 1116, 1120, 1130, 7020
Promise: 1408, 1409, 1412, 1512
Simple: 1732, 2932, 3116, 3221, 3232, 3210, 3223, 3229
Tradition: 2250, 2259, 2263, 2273, 2277, 2282
M Series: M1500, M1600, M2100, M2200, M2400, M3200, M3300, M3330, M3400, M3500
MB Machine Compatibility (+)
Heavy Duty: 4411, 4423, 4432, 4452, 5511, 5523, 5532, 44S, HD6380,
Talent: 3321, 3323S, 3323
CA Machine Compatibility (+)
Brilliance: 5400, 5500, 6160, 6180, 6199, 6699
CB Machine Compatibility (+)
Curvy: 5625, 8763, 8767, 8770, 8780, Athena 2009
One/160: Singer One, Singer One Plus, 70, 8768
Cosmo/Confidence: S800, 5625, 7256, 7256 HC, 7258, 7285Q Patchwork, 7410, 7412, 7422, 7424, 7426, 7430, 7436, 7442, 7444, 7446, 7448, 7462, 7463, 7464, 7466, 7465, 7467, 7467S, 7468, 7469, 7469Q, 7470, 7563
CC Machine Compatibility (+)
9900: 9910, 9920, 9940, 9960, 9985, 9980, 9970
EA Machine Compatibility (+)
Futura: FQ-4, SEQS-6000, SEQS-6700, 5 Futura Quintet, 8500Q, XL-400, XL-420, XL-550, XL-580

EB Machine Compatibility (+)
Superb/Legacy: EM200, SE300, SE340, C440Q, C440

EC Machine Compatibility (+)
Futura: CE100, CE150, CE180, CE200, CE250, CE350, SES1000, SES2000
---
---
---