Skip to main content
https://svpworldwide.widen.net/content/gabh5lwojt/jpeg/gathering_frontjpgcrop.jpeg?position=c&color=ffffffff&quality=80&u=xyrryw/upload/q_auto,f_auto/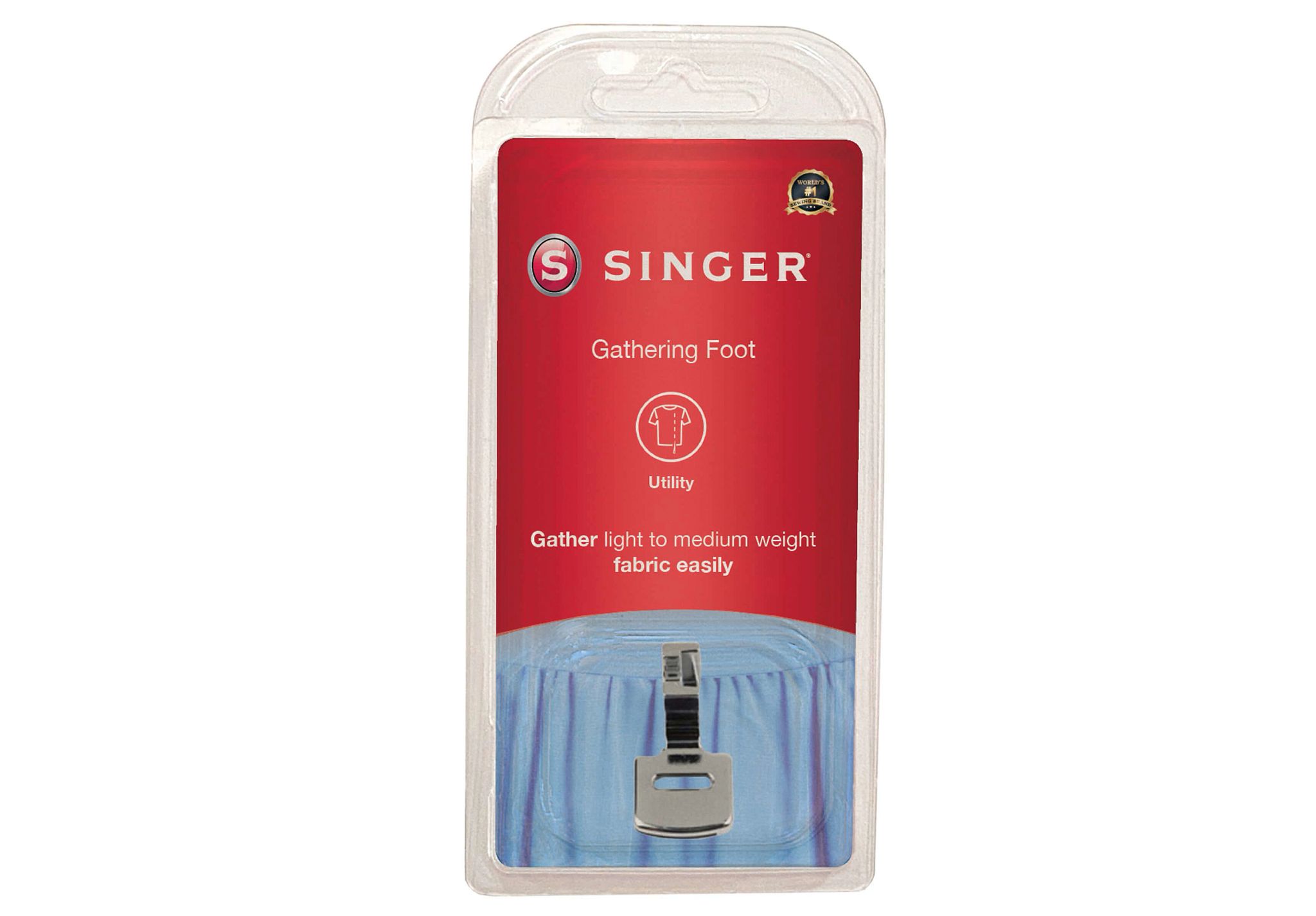 Added to Wishlist
SINGER Gathering Presser Foot
Free Shipping & Returns
(continental US)
Forms soft gathers effortlessly in light to medium weight fabric. Can attach a gathered fabric layer onto another project or piece of fabric.
Simultaneously stitches and gathers light to medium weight fabric while overcasting the raw edge
Great for home decor and clothing projects or attaching a gathered layer onto any of your inspirations
Wide 7mm needle slot
The Gathering Presser Foot is used to form soft gathers in fabric. Gather light to medium weight fabric or use attachment to gather a single layer of fabric while attaching it to a layer that is not gathered. Silk ribbons or strips of fabric can be gathered to create whole new look! Works best with softer fabric types.
Compatible With
MA - MC, CA - CC, CE, EA - EC Series (See Specifications Tab for details)
---
MA Machine Compatibility (+)
Locust: 1507, 1507WC, 1525/1725, 1748, 8280, 8280L, 8280 SMART II
Mecury I: 1105, 1116, 1120, 1130, 7020
Promise: 1408, 1409, 1412, 1512
Simple: 1732, 2932, 3116, 3221, 3232, 3210, 3223, 3229
Tradition: 2250, 2259, 2263, 2273, 2277, 2282
M Series: M1500, M1600, M2100, M2200, M2400, M3200, M3300, M3330, M3400, M3500
MB Machine Compatibility (+)
Heavy Duty: 4411, 4423, 4432, 4452, 5511, 5523, 5532, 44S, HD6380,
Talent: 3321, 3323S, 3323
MC Machine Compatibility (+)
Fashion/Inspiration: 4205, 4206, 4210, 4212, 4218, 4220, 4228
CA Machine Compatibility (+)
Brilliance: 5400, 5500, 6160, 6180, 6199, 6699
CB Machine Compatibility (+)
Curvy: 5625, 8763, 8767, 8770, 8780, Athena 2009
One/160: Singer One, Singer One Plus, 70, 8768
Cosmo/Confidence: S800, 5625, 7256, 7256 HC, 7258, 7285Q Patchwork, 7410, 7412, 7422, 7424, 7426, 7430, 7436, 7442, 7444, 7446, 7448, 7462, 7463, 7464, 7466, 7465, 7467, 7467S, 7468, 7469, 7469Q, 7470, 7563
CC Machine Compatibility (+)
9900: 9910, 9920, 9940, 9960, 9985, 9980, 9970
CE Machine Compatibility (+)
Computerized: HD6600C, HD6700C, HD6800C, HD6620, 2010, 7140, ET-1, Futura 4060, H74, Stylist 9100, 9340, 9100 Professional

EA Machine Compatibility (+)
Futura: FQ-4, SEQS-6000, SEQS-6700, 5 Futura Quintet, 8500Q, XL-400, XL-420, XL-550, XL-580

EB Machine Compatibility (+)
Superb/Legacy: EM200, SE300, SE340, C440Q, C440

EC Machine Compatibility (+)
Futura: CE100, CE150, CE180, CE200, CE250, CE350, SES1000, SES2000
---
---
---