Skip to main content
https://svpworldwide.widen.net/content/qqqy7hmfqf/jpeg/HD0400S_Serger_Front.jpeg?position=c&color=ffffffff&quality=80&u=xyrryw/upload/q_auto,f_auto/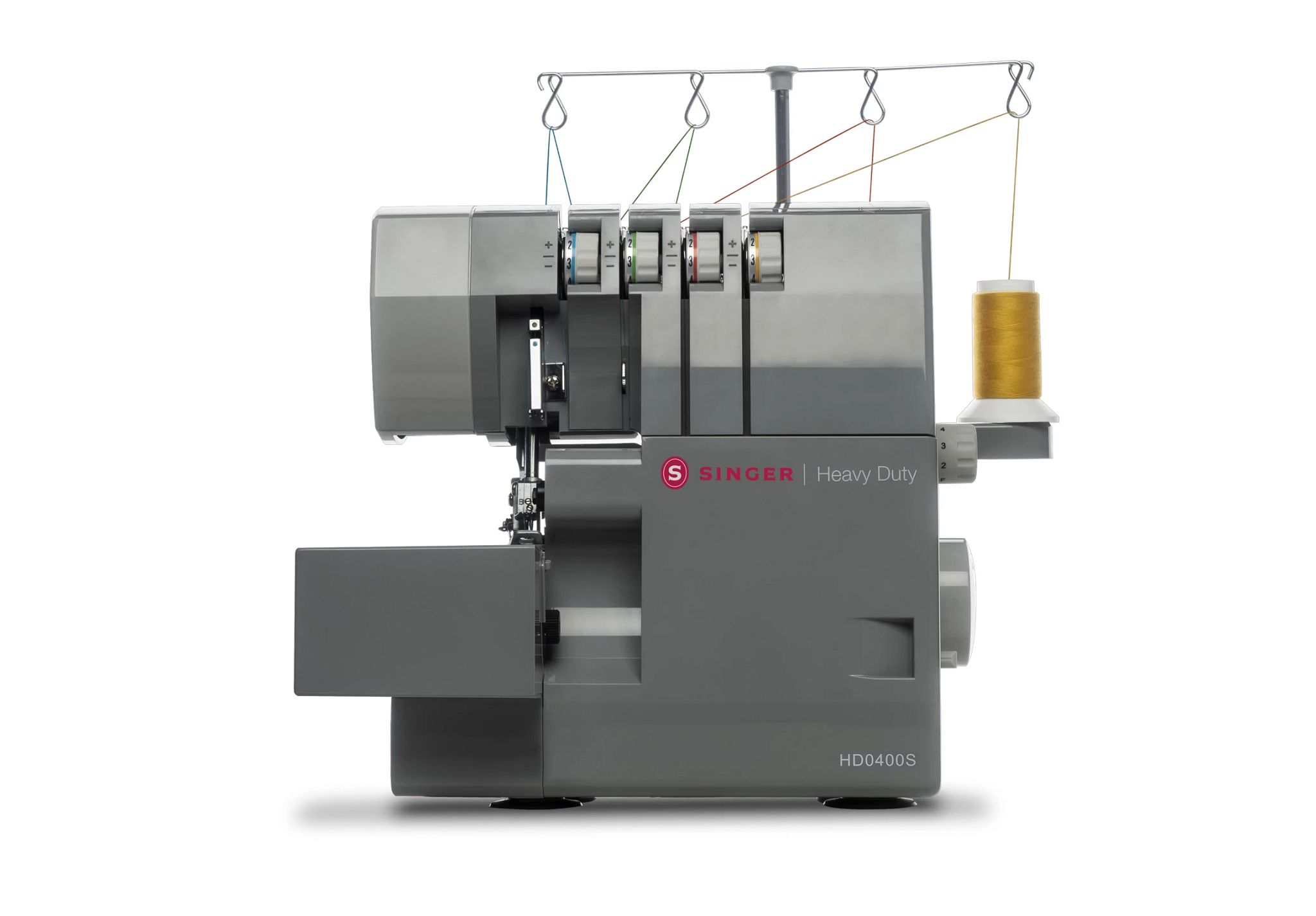 Added to Wishlist
HD0400S Heavy Duty Serger
Free Shipping & Returns
(continental US)
Heavy duty metal frame and larger cutting knife provides extra durability and cuts through thicker fabrics with ease. For your convenience, your machine will arrive pre-threaded. Accessories included are located in the storage area at the front of your machine. Shop compatible accessories
$50 included accessories
Powerful & durable frame holds machine still for skip-free stitching
Variety of 2, 3 or 4 thread stitches and 6 different stitch types
60% larger cutting knife than other Singer sergers cuts think fabrics easily
1300 stitches/minute professional speed for faster results
This Heavy Duty serger packs a punch. It is designed with a 60% larger cutting knife than other Singer sergers so it cuts through thicker fabrics with ease. The upper knife can also be moved to prevent trimming of fabric while sewing. Its heavy duty metal frame not only makes it more durable but it also keeps the machine steady for skip-free sewing.
This serger is a must-have because it sews and finishes seams at the same time, while trimming away the excess seam allowance. Professional looking seams, seam finishes and 1,300 stitches per minute speed make this a real timesaver. You can use 2 threads, 3 threads, or 4 threads for a wide variety of stitch combinations. The 6 different stitch types ensure the perfect stitch, regardless of the project: blind hems, rolled hems, flatlocking, finishing raw edges and sewing seams. The color coded threading system has an easy-to-read diagram right on the machine to make threading effortless every time.
The differential feed is fully adjustable and ensures an even feed of fabric as your sew, regardless of the speed and thickness. Enjoy perfectly smooth seams on every type of fabric. It is also useful for keeping stretch fabric and bias-cut fabrics from excessive stretching while you sew. The high performance motor and free arm allows you to power sew through projects and hard-to-reach areas.
Two LED lights give a clear view and no shadows when sewing - twice the light of other Singer sergers. Want to take your Heavy Duty serger on the go? No worries, the convenient carry handle makes it portable too.
Machine Dimensions: 14" long x 11" wide x 11.5" high
For your convenience, your machine will arrive pre-threaded. Accessories included are located in the storage area at the front of your machine.
---
Included Accessories ($50 value)
All-Purpose Foot, Tweezers, Spreader, Needles, Screwdriver, 4 Thread Spool Holders, Spare Lower Knife, Scrap Bag and Lint Brush
---
Built-In Stitches (8)
Choose from a variety of stitches for basic sewing, decorative sewing, and more
Adjustable Stitch Length (+)
Customize the appearance of a stitch by increasing or decreasing the distance between stitches. Use this function for various stitch techniques like applique, basting and more.
Adjustable Stitch Width ()
The size of the stitch from left to right is adjustable, to make the stitch sew narrower or wider as desired.
Thread Capability (2-3-4)
Choose from seams finishes, hem finishes and decorative edges thanks to a variety of stitch combinations available.
Color Coded Threading System (+)
Threading path for each thread is indicated with a specific color to simplify the threading process. Handy reference diagrams are also included right on the machine.
Differential Feed (+)
Controls the ratio of movement between the front and back sections of the feed teeth. Use this to help remove distortion from seams in stretchy fabrics or puckers from seams in lightweight or silky fabrics.
Built-In Rolled Hem (4)
Just slide a lever to easily convert the machine for rolled hem sewing - no need to change stitch plate
Movable Upper Knife (+)
Upper knife can be engaged to trim excess seam allowance as you sew, or it can be rolled out of the way for special techniques like flatlocking or anytime when you don't want the machine to trim
Heavy Duty Metal Frame (+)
The machine's interior frame is metal, providing long lasting durability
High Speed Stitching (1300/min)
Professional speed for faster results.
Speed Control (Digital)
Set the maximum sewing speed of the machine
LED Lighting (+)
Long lasting LED lighting provides bright illumination and stays cool to the touch
Free Arm (+)
Slide off the Removable Storage Compartment for access to the free arm, making it easy to sew trouser hems, sleeve cuffs and other smaller or tubular projects
Extra High Presser Foot Lifter (+)
Presser foot has an extra high position available to accommodate thick fabrics.
Machine Weight (13.5)
Amps (1)
Watts (120)
Volts (120)
Hz (60)
Warranty (90 day / 2yr / 25yr)
Find Complete Warranty Terms Here
---
---
---
---