Skip to main content
https://svpworldwide.widen.net/content/ehfultvf37/jpeg/codingfoot-mockupjpg_crop.jpeg?position=c&color=ffffffff&quality=80&u=xyrryw/upload/q_auto,f_auto/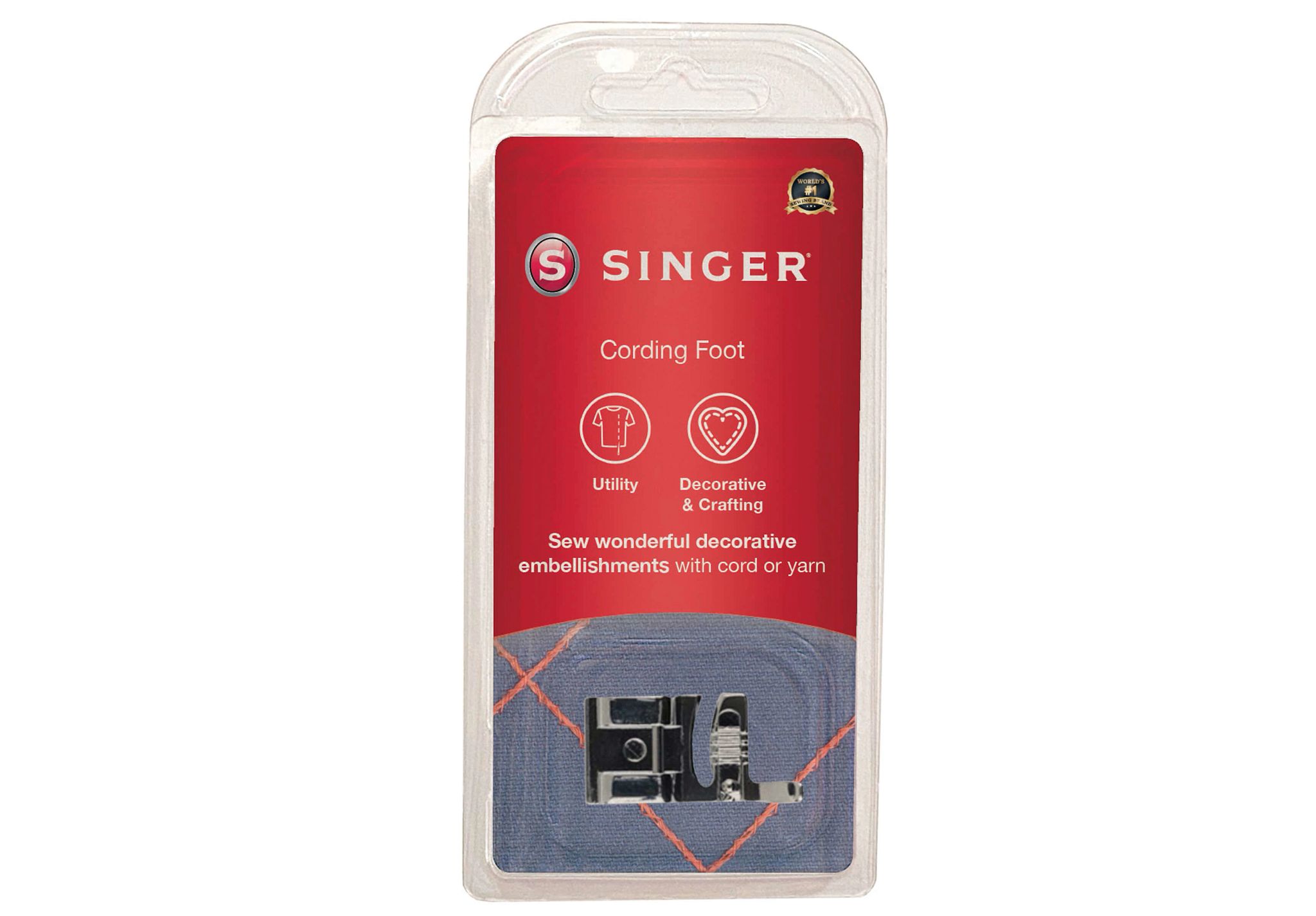 Added to Wishlist
SINGER Cording Presser Foot
Free Shipping & Returns
(continental US)
Add surface embellishment to fabrics with cords, thin braids, embroidery floss or yarn.
Experiment with decorative stitches and cord types
May also be used to gather fabrics
Fits: CA, CE, EA, EB series (see Product Details tab for specific models)
The Cording Foot is mainly used to add surface embellishment to fabrics, but it has some practical uses, too. This foot has a slotted guide on the top which holds up to three separate lightweight yarns or cords. The cords are held by the foot, while you stitch them to the fabric. You can use one…two…or all three holes, depending on the effect you want. You'll have fun experimenting with different decorative stitches and combinations of cords!
See the QUICK GUIDES tab for additional information and sewing inspiration.
Compatible With
SINGER M1 M2 C1 C2 C3 E1 E2 Series:
M1: 1507, 1507WC, 8280, Tradition Series: 2250, 2259, Simple Series: 2263, 3116, 3221, 3223, 3229 3232, Promise Series: 1408, 1409, 1512, 2273 Esteem.
M2: Heavy Duty Series: 4411, 4423, 4432, 5511, 5523, 5532, 5554, 4443, 4452 Talent Series: 3321, 3323, 3323S, 44S Classic.

C1: 2010 Superb, ET-1 Perfect Finish, H74, 9340, 9100 Professional.
C2: 5400 Sew Mate, 5500 Fashion Mate, 6160, 6180 Brilliance, 6199 Brilliance.
C3: Curvy Series: 8763, 8770, 8780, 5625 Stylist II, 8768 Heritage, 2009 Athena, Singer One & One Plus, 160 Anniversary Machine, 70 Jo-Ann Fabric Anniversary, Confidence 7400 Series including 7467S Confidence Stylist, 7469 Confidence, 7469Q Confidence Quilter, 7470, 7256 Fashion Mate, 7258 Stylist, 7285Q Patchwork, S800 Fashion

E1: Futura models CE100, CE150, CE180, CE200, CE250, CE350, SES1000, SES2000.
E2: Futura models CE100, CE150, CE180, CE200, CE250, CE350, SES1000, SES2000 FQ-4, SEQS-6000, SEQS-6700, XL-400,XL-420, XL-550, XL-580, 5 Quintet 8500Q Modern Quilter.
---
---
---
---