Skip to main content
https://svpworldwide.widen.net/content/pm65ijoho6/jpeg/singer-feet-mockups-roller-frontjpgcrop.jpeg?position=c&color=ffffffff&quality=80&u=xyrryw/upload/q_auto,f_auto/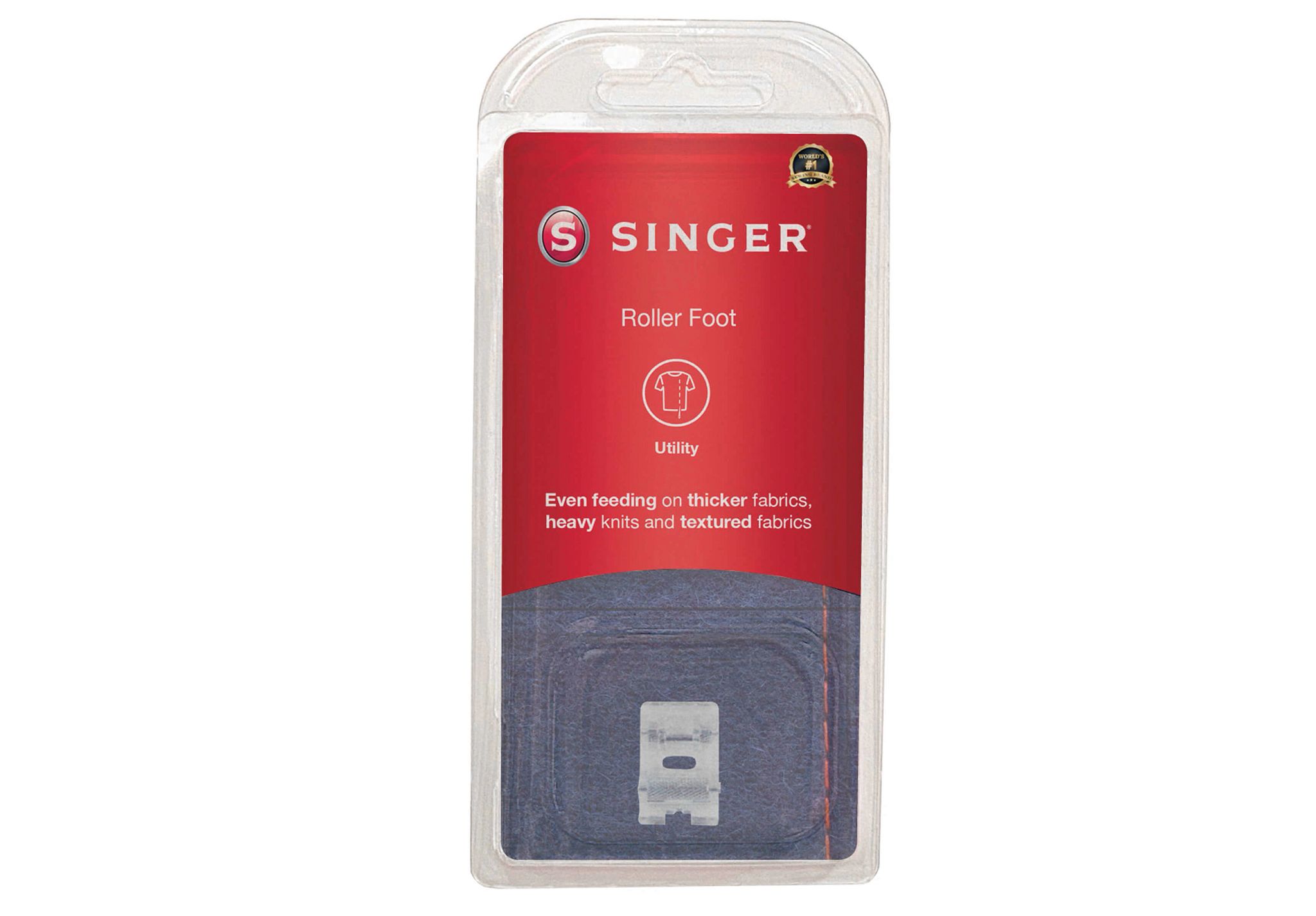 Added to Wishlist
SINGER Roller Presser Foot
Free Shipping & Returns
(continental US)
Front and back rollers helps evenly feed thicker fabrics with uneven levels, heavy knits, textured and napped fabrics, leather and vinyl. Prevents fabric from slipping.
Even fabric feeding is achieved, thanks to the longer roller on the front of the presser foot
Use a medium to long straight stitch for best results
Fits: MA - MC, CA - CC, CE, EA - EC series (see Specification tab for specific models)
To install the Roller Presser Foot, simply remove the All-Purpose Foot from the presser foot holder on your sewing machine and snap on the Roller Foot, following the recommendations in your machine manual.
See the QUICK GUIDES tab for additional information.
Helpful sewing tips when sewing heavy knit fabrics, leather, and specialty fabrics:
Heavy Knit: To sew heavy knit fabrics with the Roller Foot use a narrow zigzag stitch or straight stitch at an average stitch length.

Leather: Use a straight stitch on your sewing machine and set stitch length to a medium to medium-long stitch length. A smaller stitch may perforate the fabric causing it to tear away from the seam.

Paper Clips, Not Pins: When working with leather, plastic, oilcloth and laminated fabrics try using paper clips instead of pins to hold the layers of fabric together as you sew. Pins will make permanent holes in these specialty fabrics.
---
MA Machine Compatibility (+)
Locust: 1507, 1507WC, 1525/1725, 1748, 8280, 8280L, 8280 SMART II
Mecury I: 1105, 1116, 1120, 1130, 7020
Promise: 1408, 1409, 1412, 1512
Simple: 1732, 2932, 3116, 3221, 3232, 3210, 3223, 3229
Tradition: 2250, 2259, 2263, 2273, 2277, 2282
M Series: M1500, M1600, M2100, M2200, M2400, M3200, M3300, M3330, M3400, M3500
MB Machine Compatibility (+)
Heavy Duty: 4411, 4423, 4432, 4452, 5511, 5523, 5532, 44S, HD6380,
Talent: 3321, 3323S, 3323
MC Machine Compatibility (+)
Fashion/Inspiration: 4205, 4206, 4210, 4212, 4218, 4220, 4228
CA Machine Compatibility (+)
Brilliance: 5400, 5500, 6160, 6180, 6199, 6699
CB Machine Compatibility (+)
Curvy: 5625, 8763, 8767, 8770, 8780, Athena 2009
One/160: Singer One, Singer One Plus, 70, 8768
Cosmo/Confidence: S800, 5625, 7256, 7256 HC, 7258, 7285Q Patchwork, 7410, 7412, 7422, 7424, 7426, 7430, 7436, 7442, 7444, 7446, 7448, 7462, 7463, 7464, 7466, 7465, 7467, 7467S, 7468, 7469, 7469Q, 7470, 7563
CC Machine Compatibility (+)
9900: 9910, 9920, 9940, 9960, 9985, 9980, 9970
CE Machine Compatibility (+)
Computerized: HD6600C, HD6700C, HD6800C, HD6620, 2010, 7140, ET-1, Futura 4060, H74, Stylist 9100, 9340, 9100 Professional

EA Machine Compatibility (+)
Futura: FQ-4, SEQS-6000, SEQS-6700, 5 Futura Quintet, 8500Q, XL-400, XL-420, XL-550, XL-580

EB Machine Compatibility (+)
Superb/Legacy: EM200, SE300, SE340, C440Q, C440

EC Machine Compatibility (+)
Futura: CE100, CE150, CE180, CE200, CE250, CE350, SES1000, SES2000
---
---
---
---