Skip to main content
https://svpworldwide.widen.net/content/m5yaszpunw/jpeg/07306_Learn_To_Quilt_Starter_Kit.jpeg?position=c&color=ffffffff&quality=80&u=xyrryw/upload/q_auto,f_auto/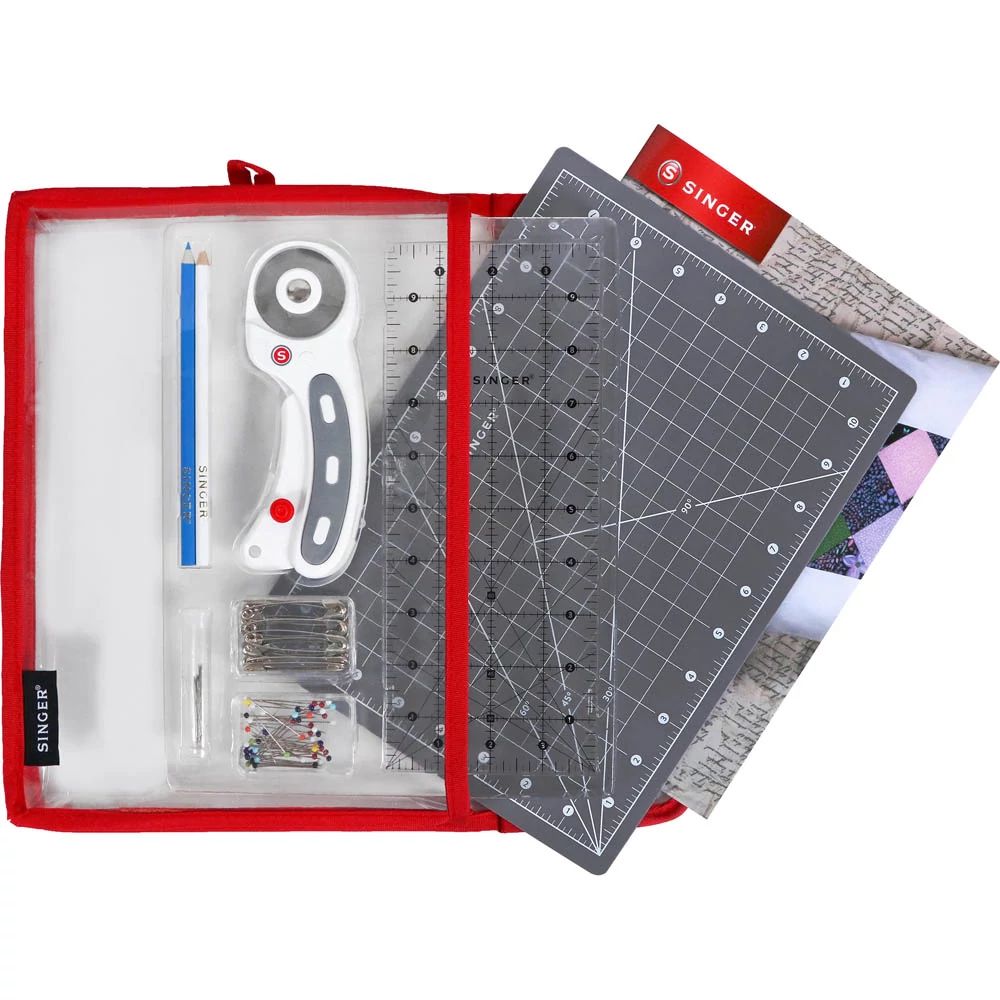 Added to Wishlist
SINGER 86-Pc Learn to Quilt Kit
Free Shipping & Returns
(continental US)
The SINGER Learn To Quilt Sewing Kit for Beginners and Adults will take you from having no quilting experience at all to completing your first quilting project in no time flat.
86-piece starter sewing kit for quilting beginners includes a 45mm rotary cutter, a portable cutting mat, an acrylic ruler, ball head pins, basting pins, hand needles, fabric marking pencils, and a project book
Teach yourself to quilt with an easy-to-follow 20 page instructional guide and a quilt kit starter pack to complete your first quilting project and beyond
Quilting kit comes with a reusable sewing accessories storage organizer pouch
The quilting instructional project book includes a glossary of quilting terms, tips and tricks, and easy step by step guides for three separate quilting projects - "Catch All Baskets", "Magic Garden Pillows", "Stripes That Delight Quilt"
A great gift for beginners, teens and adults ready to learn the art of quilting

With this 86-piece quilting kit, you can teach yourself everything you need to know to create beautiful, quilted pieces that you'll treasure for years to come. The kit comes with all the essential quilting tools for your sewing projects: a 45 mm rotary cutter, a portable 8.5" x 11" cutting mat, a 4" x 10" acrylic ruler, 50 size 200 glass head quilting pins, 20 size 3 basting pins, 9 assorted quilting hand needles, two fabric marking pencils, and a 20-page tutorial project book, all contained within a convenient storage pouch.
The project book has a glossary to help you quickly pick up quilting terminology, tutorials on essential quilting techniques, and a step-by-step guide to create three separate quilting projects. Imagine the pride you'll feel showing off the Catch All Baskets, Magic Garden Pillows, and the Stripes That Delight Quilt and knowing you made those with your own hands.
This quilting kit is also a perfect gift for dressmakers, students, and anyone who wants to quickly and easily learn how to quilt.
---
---
---