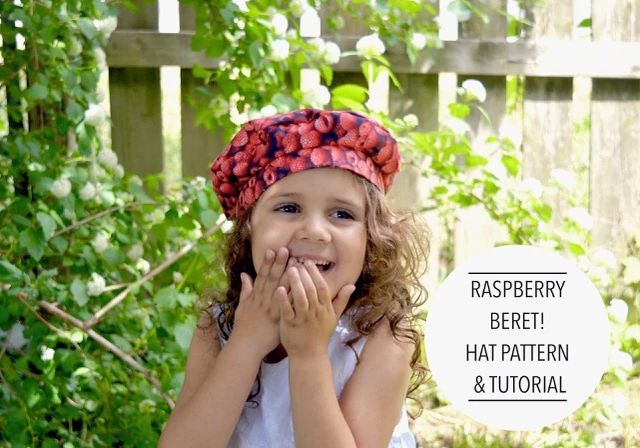 Babies and Kids
Fashion and Apparel
Raspberry Beret Tutorial and Pattern - Littlest Studio
By
babita.n@techa…
| Wed, 06/20/2018 - 00:00
Hi Everyone!
This easy serger project for kids had to be some of the most fun I have had sewing lately. While this is clearly a stunning serging project for your child or grandchild, I've included an adult and child version in the printable PDF pattern - just in case you've fallen in love with it for yourself. It's summer, and nothing says summer like juicy berries and adorable hat projects! Also…. Raspberry Beret…. Get it ;)
This combination was too irresistible.
For those of you that do not have a serger, or are wondering what a serger is, let me give you a quick recap: sometimes called an overlock machine, my serger is the perfect companion to the sewing machine I already own.  It sews a seam and seam finish at the same time, but also trims away excess seam allowance. A serger allows me to easily insert elastic band (like I did in this project), add ribbing to t-shirts and sweatshirts, or make neat rolled hems! What I love best, is that serger projects will make my projects look as professional as store-bought items. If you're interested, you can check out Singer sergers right here on Singer.com. I have the SINGER® Professional™ 5 14T968DC Serger.
But let's get back to the good part! The serger project! This cute raspberry beret is so easy to sew. It takes just a few minutes to put together and looks every bit the stylish accessory! So let's get started.
-Melanie Lalonde Littlest Studio
VIEW INSTRUCTIONS
Materials
½ Yard of Cotton (Fun prints are the best!)

½ Yard of Lining Cotton

Strip of Fusible Interfacing

Thread