Skip to main content
https://svpworldwide.widen.net/content/7ppa50senh/jpeg/Beading_Foot_Sewing_Front.jpeg?position=c&color=ffffffff&quality=80&u=xyrryw/upload/q_auto,f_auto/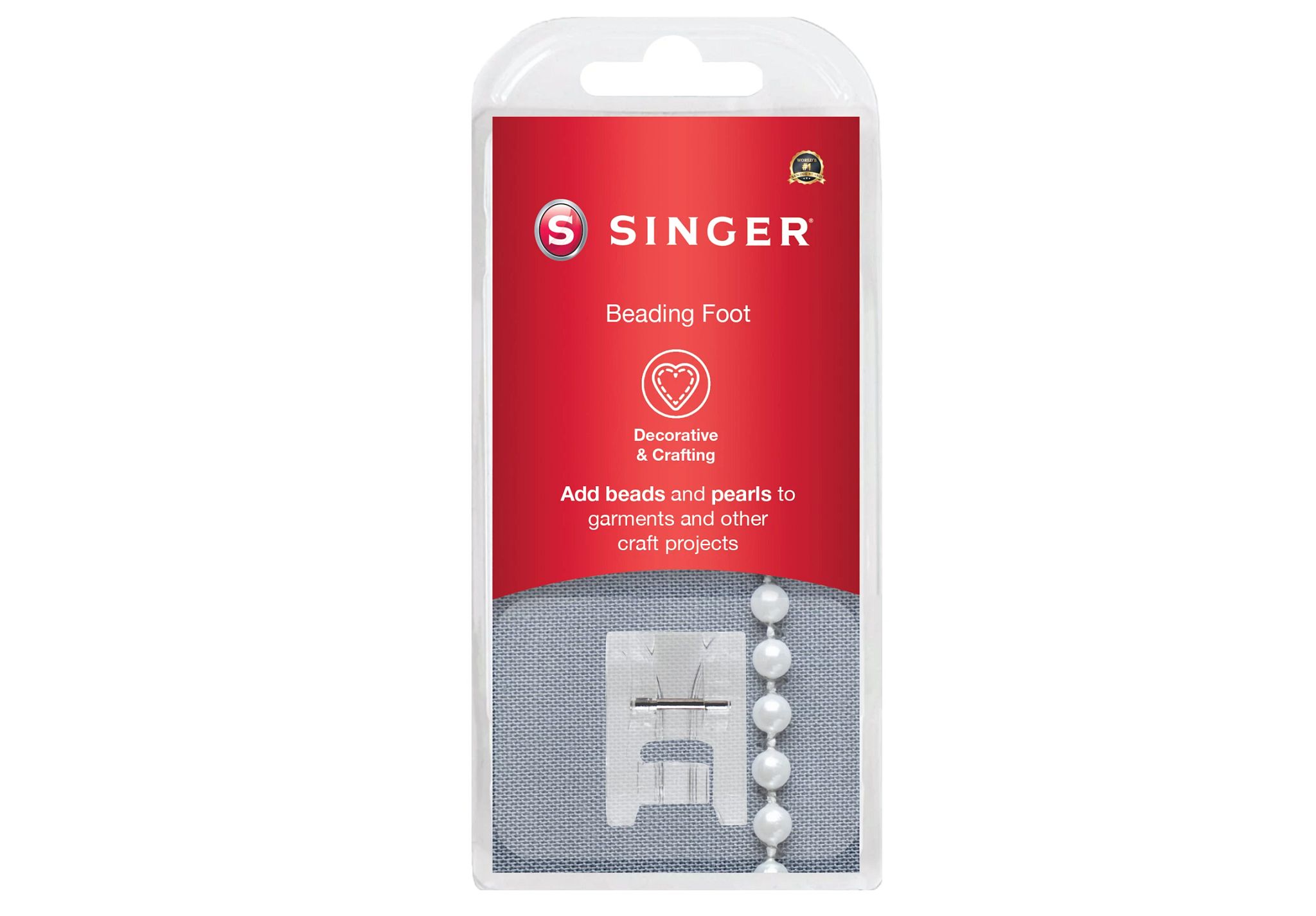 Added to Wishlist
SINGER Beading Presser Foot
Free Shipping & Returns
(continental US)
Helps to create finishing touches to a project.
Deep groove on the underside allows beads to easily be stitched into place
Easily sew beads, cords, yarns, sequins, or other trims using a zigzag stitch
Fits: MB, CB, CC, CE, EB series (see Specifications tab for specific models)
Use the Beading Foot to easily sew beads, cords, yarns, sequins or other trims into place. The deep groove on the underside of the foot will allow piping or beads to be easily stitched into place.
It's so easy to use!
1. Snap the Beading Foot onto the machine.
2. Thread the top of the machine with clear monofilament thread and regular sewing thread in the bobbin.
3. Select zigzag stitch.
4. Position the beads or other trim into the groove of the foot. This will guide the trim as it is stitched.
5. Place fabric under the Beading Foot. Trims may be stitched on the edge or anywhere on the fabric.
6. Adjust zigzag width to accommodate the width of the trim. Turn the handwheel to permit the needle to go left and right to test that the needle will clear the trim and not break.
7. Sew slowly
It can also be used with a rolled hem stitch to make wire-edge ribbon for craft and home decor projects.
---
MB Machine Compatibility (+)
Heavy Duty: 4411, 4423, 4432, 4452, 5511, 5523, 5532, 44S, HD6380,
Talent: 3321, 3323S, 3323
CB Machine Compatibility (+)
Curvy: 5625, 8763, 8767, 8770, 8780, Athena 2009
One/160: Singer One, Singer One Plus, 70, 8768
Cosmo/Confidence: S800, 5625, 7256, 7256 HC, 7258, 7285Q Patchwork, 7410, 7412, 7422, 7424, 7426, 7430, 7436, 7442, 7444, 7446, 7448, 7462, 7463, 7464, 7466, 7465, 7467, 7467S, 7468, 7469, 7469Q, 7470, 7563
CC Machine Compatibility (+)
9900: 9910, 9920, 9940, 9960, 9985, 9980, 9970
CE Machine Compatibility (+)
Computerized: HD6600C, HD6700C, HD6800C, HD6620, 2010, 7140, ET-1, Futura 4060, H74, Stylist 9100, 9340, 9100 Professional

EB Machine Compatibility (+)
Superb/Legacy: EM200, SE300, SE340, C440Q, C440

---
---
---