Skip to main content
https://svpworldwide.widen.net/content/oe77eceaen/jpeg/Singer_HD6800C_Sewing_Machine_Beauty.jpeg?position=c&color=ffffffff&quality=80&u=xyrryw/upload/q_auto,f_auto/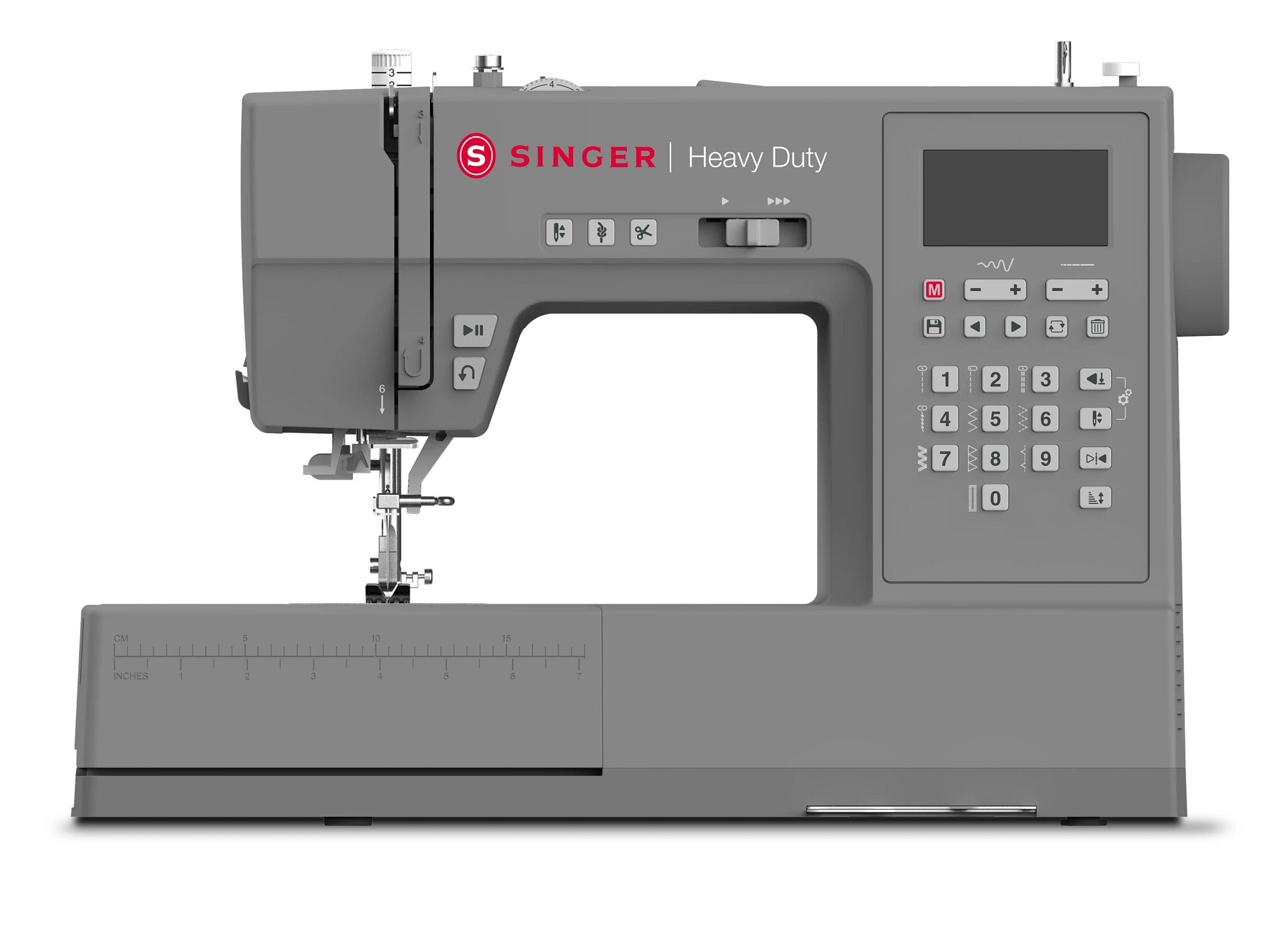 Added to Wishlist
Heavy Duty 6800C Sewing Machine Refurbished
SINGER Refurbished sewing machines are 100% inspected & sew tested to meet SINGER Factory Testing standards.
With a heavy duty metal frame, powerful motor and electronic-enabled features, the computerized heavy duty machine by SINGER® is a workhorse with endless possibilities. Shop compatible accessories
Refurbished: 100% inspected & sew tested to meet SINGER Factory Testing standards
$240 included accessories
586 Stitch Applications -

basic, stretch, decorative, and 2 lettering fonts

9 One-Step Buttonhole Styles

LCD Screen

displays stitch image, settings, presser foot & more

Thread Cutter Button

trims top & bottom threads to save time

6.4" sewing space (needle to tower) and 4.6" height
Use SINGER Class 15 Transparent bobbins
The Heavy Duty 6800C computerized sewing machine is designed with your heavy duty projects in mind, from denim to canvas. Thanks to the machine's powerful motor, you have extra high sewing speed to save you time. The throat space (working space between the needle and tower) is 6.4" or 163 mm.
With adjustable presser foot pressure, you can also sew very lightweight sheers, and the stainless steel bedplate allows fabrics to glide over the machine with ease.
Create original costumes, sew personalized fashions or transform your home with new decorator pillows and curtains. Among the 586 stitch applications is one-step buttonhole, giving you consistent results every time for projects you'll be proud to say you made yourself. Use the built-in lettering and mirror imaging to create one of kind projects.
The Top Drop-in Bobbin is not only easy to thread, it's easy to see so you won't run out of bobbin thread in the middle of a seam. The "throat" size or distance from needle to the tower is 163 mm or 6.4 inches. The font size of letters is 7 mm or slightly more than 1/4 inch.
Machine Size: 17.3" x 7.5" x 10.9"
---
What's a Stitch Application?
It's a specific technique you can do with a selected stitch. Click below to see the complete listing of Stitch Applications for this sewing machine.
HD 6800C Stitch Applications Guide
Included Accessories ($240 value)
All-Purpose Foot, Zipper Foot, Buttonhole Foot, Blind Hem Foot, Button Sewing Foot, Sew Easy Foot, Satin Stitch Foot, Even Feed / Walking Foot, Open Toe Foot, Cording Foot, 4 Bobbins (SINGER Class 15 transparent), Large Spool Holder, Small Spool Holder, Spool Pin Felt, Auxiliary Spool Pin, L-Screwdriver, Brush / Seam Ripper, Soft Cover, and Pack of Needles
---
Stitch Applications (586)
A Stitch Application simply means a specific sewing technique that you can do with a selected stitch. Basically, Stitch Applications are all the different things you can actually DO with your machine!
Built-In Lettering (2 Fonts)
Personalize projects with words, phrases or monograms
Mirror Imaging (+)
Invert stitch patterns from side to side for more creative options
One-Step Buttonhole (9 Styles)
Buttonholes are sewn in one easy step. Just place the button in the buttonhole foot and the machine sews a buttonhole perfectly sized for that button, delivering consistent results every time.
Built-In Needle Threader (+)
Effortlessly threads the eye of the needle - eliminates eye strain and saves you time
Top Drop In Bobbin (+)
Easy to thread and easy to see! The transparent bobbin and cover allow you to monitor your thread supply so you don't run out of thread in the middle of a seam.
Thread Cutter Shut Off (+)
Thread cutting function for embroidery mode can be turned off or on as desired, with the simple touch of a button.
Tie-Off Button (+)
Immediately tie-off the stitch and stop sewing automatically. You can even program the machine to perform the tie-off at the end of a stitch before you start to sew.
Drop Feed (+)
Feed teeth can be lowered for button sewing or free-motion sewing - a must-have for quilters! Simply slide the Drop Feed Lever to lower the feed teeth. Slide it back and turn the handwheel one full turn to raise the feed teeth again.
Touch Button Stitch Selection (+)
Select your stitch with a simple touch of a button - the optimum stitch length and stitch width are preselected so you can start sewing faster, but stitch settings can be adjusted as desired to customized for your projects
Adjustable Stitch Length (+)
Customize the appearance of a stitch by increasing or decreasing the distance between stitches. Use this function for various stitch techniques like applique, basting and more.
Adjustable Stitch Width (+)
The size of the stitch from left to right is adjustable, to make the stitch sew narrower or wider as desired.
Heavy Duty Metal Frame (+)
The machine's interior frame is metal, providing long lasting durability
Stainless Steel Bed Plate (+)
The surface of the machine's arm is made of stainless steel, providing a smooth surface that allows your fabrics to glide smoothly as you sew.
High Speed Stitching (1100/min)
Professional speed for faster results.
Speed Control (+)
Set the maximum sewing speed of the machine
LED Lighting (+)
Long lasting LED lighting provides bright illumination and stays cool to the touch
LCD Screen (+)
LCD screen clearly displays your selected stitch as well as stitch settings for length and width.
Free Arm (+)
Slide off the Removable Storage Compartment for access to the free arm, making it easy to sew trouser hems, sleeve cuffs and other smaller or tubular projects
Sewing Space (Needle to Tower) (6.4")
The distance between the needle and the main part of the machine. Having a generous "C" space allows you to sew larger projects like quilts with ease.
Warranty (30)
Find Complete Warranty Terms Here
---
---
---
---