Skip to main content
https://svpworldwide.widen.net/content/n6e1pcwxci/jpeg/Singer_Superb_EM200_Embroidery_Machine_front_view_zrddlj_eyq6km.jpeg?position=c&color=ffffffff&quality=80&u=xyrryw/upload/q_auto,f_auto/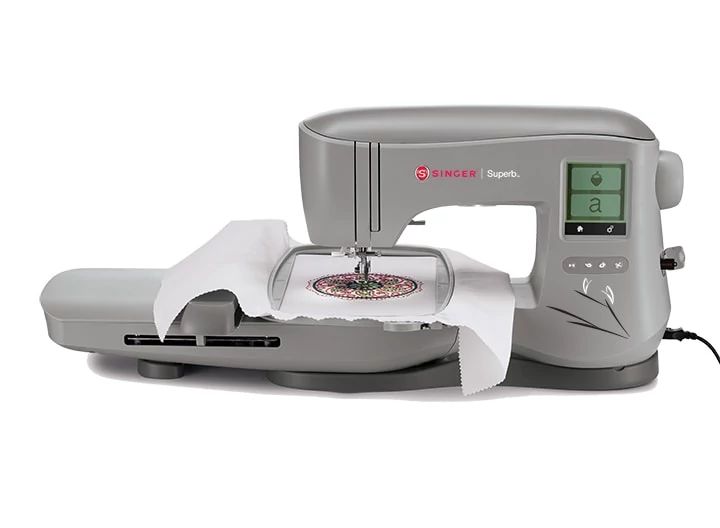 Added to Wishlist
Superb™ EM200 Embroidery Machine
This embroidery-only model is a perfect companion to your sewing machine. Online Owner's Class videos are included. Shop compatible accessories
$275+ included accessories
Choose from 200 embroidery designs and 6 fonts for custom monograms and phrases
2 hoops included to accommodate from small to extra-large embroidery designs
Complimentary software designs for USB transfer to machine
Fast Drop & Sew™ bobbin placement for an easy thread pick up
Use SINGER Class 15 Transparent bobbins
The Superb EM200 embroidery-only machine can be used by all embroidery enthusiasts! For the sewist, it's the perfect companion to your sewing machine. If you're just getting into the craft, you can add embroidery to store-bought items like towels, garments, table runners, napkins, gifts and much more.
There are 200 embroidery designs included, as well as 6 alphabet options so you can add lettering and monograms to personalize projects.
If you need a little assistance, there is an online Owner's Class Video available whenever you need it.
Included Accessories
Large Embroidery Hoop (10"x 6"), Small Embroidery Hoop (4"x 4"), Embroidery Foot, Thread Spool Net, Spool Pin Felt, Screwdriver, Needle Plate Screwdriver, Seam Ripper/Lint Brush, Thread Spool Caps, Auxiliary Spool Pin, Bobbins (Class 15 transparent), Pack of Needles and USB Embroidery Stick
---
Embroidery Designs Included (200)
Personalize any project with a large selection of embroidery designs including floral, holiday, children's designs, and crosstitch.
Software Included (EM200) (+)
Complimentary software is available at mysewnet.com for accessing additional designs and saving to a USB stick for tranferring to machine. Software also allows for resizing designs and combining designs to create design layouts.
Online Owner's Class (+)
Learn your machine's basics like threading the machine correctly, selecting stitches, making a buttonhole, changing the needle and more. Available online whenever your are!
Software Updates (+)
The software can alert you when a new update is available, and can install easily.
Built-In Lettering (+)
Personalize projects with words, phrases or monograms
Built-In Needle Threader (+)
Effortlessly threads the eye of the needle - eliminates eye strain and saves you time
Top Drop In Bobbin (+)
Easy to thread and easy to see! The transparent bobbin and cover allow you to monitor your thread supply so you don't run out of thread in the middle of a seam.
Independent Bobbin Winding (+)
Separate bobbin winding motor allows you to wind the bobbin without unthreading the machine
Self-Adjusting Tension System (+)
Select your stitch, and the machine will adjust the tensions for your selected stitch automatically, saving you time.
Heavy Duty Metal Frame (+)
The machine's interior frame is metal, providing long lasting durability
High Speed Stitching (700/min)
Professional speed for faster results.
Start/Stop Button (+)
Allows you to sew without using the foot control, if desired. Press the button to start sewing, then press again to stop sewing.
LCD Screen (+)
LCD screen clearly displays your selected stitch as well as stitch settings for length and width.
Touch Screen (+)
Touch the LCD screen to select stitches and stitch settings, view recommended presser foot and more
Snap-On Presser Feet (+)
Presser feet can be easily removed and attached when needed for various sewing techniques
Sewing Space (Needle to Tower) (7.8")
The distance between the needle and the main part of the machine. Having a generous "C" space allows you to sew larger projects like quilts with ease.
Bobbin Class (15 Transparent)
SINGER or INSPIRA branded bobbins are recommended for best results
Machine Size (17.25 x 8.25 x 12)
Machine Weight (20.5)
Box Size (29.3 x 18 x 12.3)
Amps (0.46)
Watts (55)
Volts (110 or 220)
---
---
---
---