Skip to main content
https://svpworldwide.widen.net/content/gukjfewjsp/jpeg/Overcasting_foot_beauty.jpeg?position=c&color=ffffffff&quality=80&u=xyrryw/upload/q_auto,f_auto/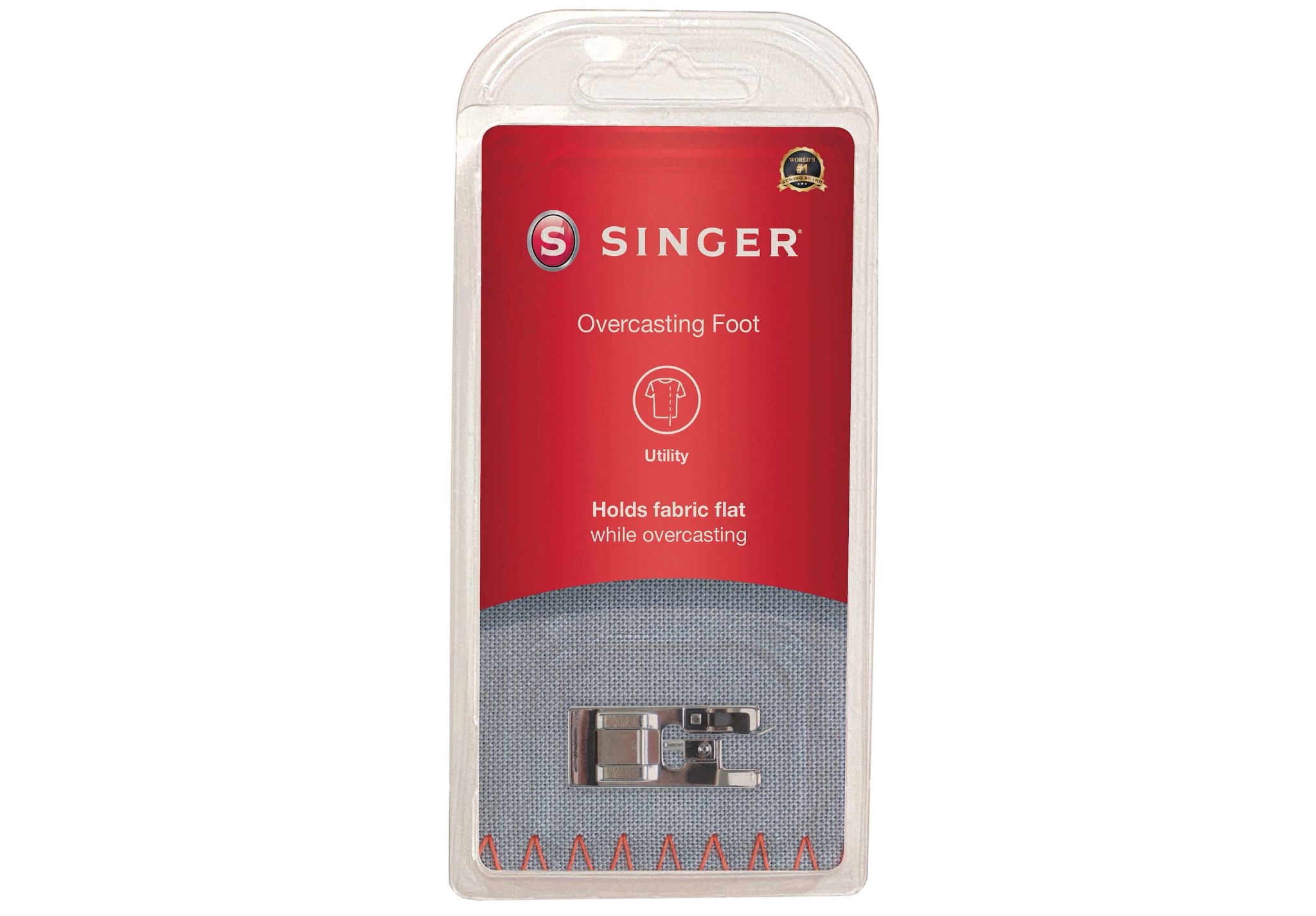 Added to Wishlist
SINGER Overcasting Presser Foot
Free Shipping & Returns
(continental US)
Easily finish fabric edges to prevent curling, fraying and unraveling.
Prevent fabric edges unraveling when used with an overlock or zigzag stitch
Keeps edges from curling up while sewing, thanks to the metal bar on the presser foot
Fits: MA - MB, CA - CC, CE, EA - EC series (see Specifics tab for specific models)
The Overcasting Foot is used to keep the fabric edges from curling up when you overlock or zigzag stitch the edge to prevent raveling. The metal bar in the center of the foot holds the fabric flat as the thread wraps over the edge for a serged effect.
How to Use:
1. Snap on the Overcasting Foot.
2. Place fabric under the foot with the edge aligned against the guide on the right side.
3. Select overlock, zigzag or other desired stitch.
4. Adjust length. Adjust width so that the needle doesn't hit the bar in the center of the opening in the foot.
5. Sew, keeping fabric edge aligned against the guide on the foot.
*SINGER models 4208 and 4212 require the optional universal shank part #250052596
---
MA Machine Compatibility (+)
Locust: 1507, 1507WC, 1525/1725, 1748, 8280, 8280L, 8280 SMART II
Mecury I: 1105, 1116, 1120, 1130, 7020
Promise: 1408, 1409, 1412, 1512
Simple: 1732, 2932, 3116, 3221, 3232, 3210, 3223, 3229
Tradition: 2250, 2259, 2263, 2273, 2277, 2282
M Series: M1500, M1600, M2100, M2200, M2400, M3200, M3300, M3330, M3400, M3500
MB Machine Compatibility (+)
Heavy Duty: 4411, 4423, 4432, 4452, 5511, 5523, 5532, 44S, HD6380,
Talent: 3321, 3323S, 3323
CA Machine Compatibility (+)
Brilliance: 5400, 5500, 6160, 6180, 6199, 6699
CB Machine Compatibility (+)
Curvy: 5625, 8763, 8767, 8770, 8780, Athena 2009
One/160: Singer One, Singer One Plus, 70, 8768
Cosmo/Confidence: S800, 5625, 7256, 7256 HC, 7258, 7285Q Patchwork, 7410, 7412, 7422, 7424, 7426, 7430, 7436, 7442, 7444, 7446, 7448, 7462, 7463, 7464, 7466, 7465, 7467, 7467S, 7468, 7469, 7469Q, 7470, 7563
CC Machine Compatibility (+)
9900: 9910, 9920, 9940, 9960, 9985, 9980, 9970
CE Machine Compatibility (+)
Computerized: HD6600C, HD6700C, HD6800C, HD6620, 2010, 7140, ET-1, Futura 4060, H74, Stylist 9100, 9340, 9100 Professional

EA Machine Compatibility (+)
Futura: FQ-4, SEQS-6000, SEQS-6700, 5 Futura Quintet, 8500Q, XL-400, XL-420, XL-550, XL-580

EB Machine Compatibility (+)
Superb/Legacy: EM200, SE300, SE340, C440Q, C440

EC Machine Compatibility (+)
Futura: CE100, CE150, CE180, CE200, CE250, CE350, SES1000, SES2000
---
---
---