Skip to main content
https://svpworldwide.widen.net/content/avwcdjwsxw/jpeg/01701_Spin_GO3.jpeg?position=c&color=ffffffff&quality=80&u=xyrryw/upload/q_auto,f_auto/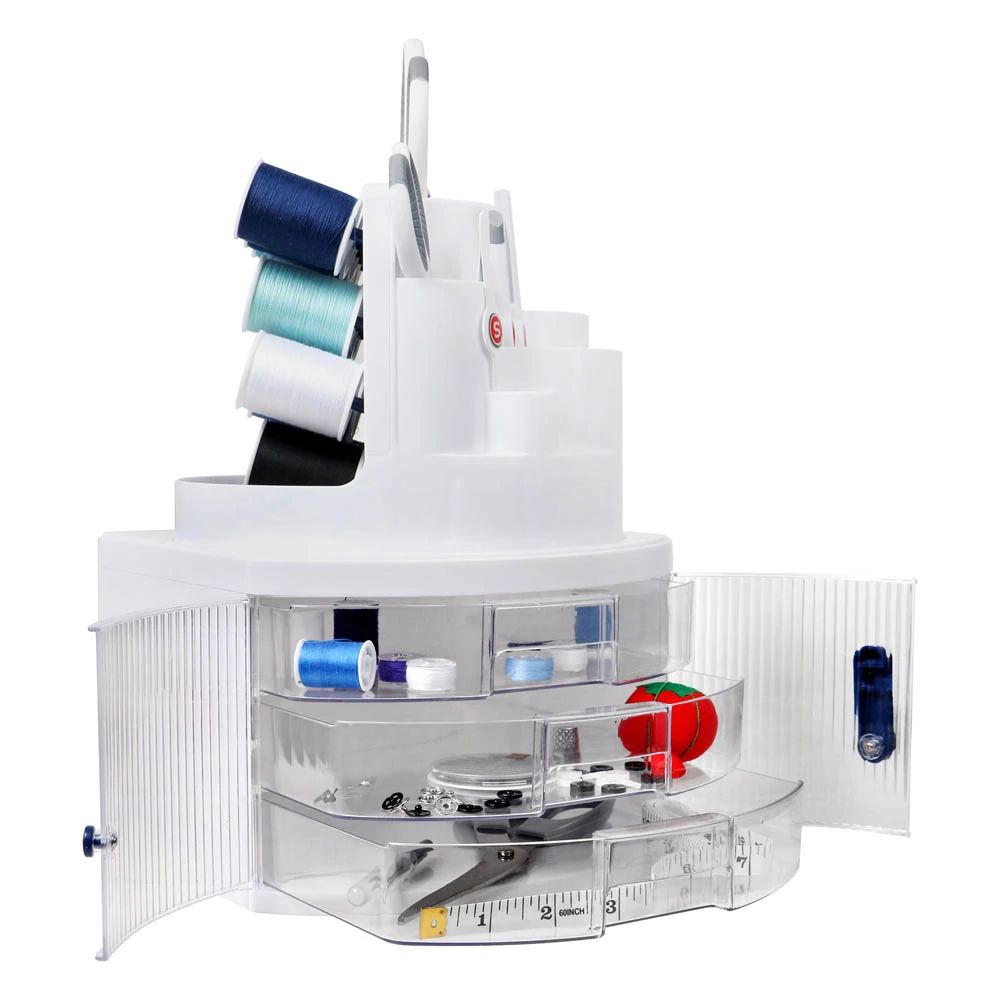 Added to Wishlist
Sew-It-Goes® Spin & Go Storage System
Free Shipping & Returns
(continental US)
The SINGER Sew-It-Goes Spin & Go is the ideal customizable sewing and craft organizer. Two individual units can be used separately or stacked and locked to create a single larger storage organization solution.
The top unit is a 360-degree spinning organizer that features a peg board for convenient thread and bobbin storage as well as six storage compartments of varying sizes for taller sewing and craft tools such as scissors, rulers, and paint brushes
The bottom unit is a storage case with two clear, fluted doors that soften the view of the case's contents, three removable drawers that keep sewing notions neat, visible, and organized, and a sturdy collapsible handle for easy transport
The Singer branded latch secures the doors of bottom storage case with the simple click of a latch – push down to lock and up to unlock
The top (7.85" w x 5.75 h") spinning unit and the bottom (8.75" d x 8.5" w x 5.5" h) storage case lock together securely with the twist of a coin to create a 2-in-1 storage case that measures 8.75" d x 8.5" w x 11.5" h
Accessories sold separately

Multipurpose Sewing Storage Container and Craft Organizer with removable drawers and built-In Peg Board.
Measuring 7.85" in diameter and standing 5.75" tall, the top unit has 360-degree spinning capabilities to keep all your sewing tools within easy reach. On one side, the spinner features an 18-peg pegboard that is perfect for bobbin and thread storage. On the other side, a craft organizer comprised of six storage cups in varying sizes easily holds and organizes taller sewing and craft tools such as paint brushes, scissors, or knitting needles. Once assembled with the bottom unit, spin the top unit like a Lazy Susan to keep all your tools and notions in reach.

Measuring 8.75" deep, 8.5" wide and 5.5" tall, the bottom unit is a storage case with three removable drawers. The back and sides of the storage unit are flat for optimal storage space, and the doors are made of clear, fluted plastic for a softer, subtler visibility of what's inside. The Singer branded latch securely locks the doors with a single click: simply push down to lock and up to unlock. A collapsible handle on top makes the storage case easy to transport.

The units can be used as two separate storage organization solutions, or they can be locked together by placing the spinner on top of the storage case and fastening them together by turning the lock with any type of coin. Together, the stacked storage units measure 8.75" deep, 8.5" wide and 5.5" tall, small enough to fit on a sewing cabinet or crafting table, yet roomy enough to contain and organize everything you need for all your sewing and crafting projects.
With all your sewing essentials conveniently organized in one lightweight yet durable organizer, the Sew-It-Goes Spin & Go is the ultimate organizer for spacious and customizable storage, easy transport, and optimal organization.
---
---
---