Skip to main content
Home > Sale > Refurbished
https://svpworldwide.widen.net/content/6edqvahzdx/jpeg/Singer_Promise_II_1512_Sewing_Machine_front_view_jmhjig.jpeg?position=c&color=ffffffff&quality=80&u=xyrryw/upload/q_auto,f_auto/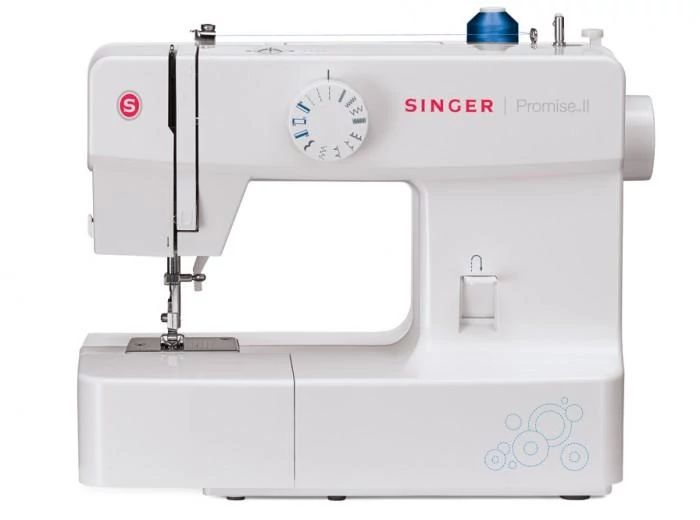 Added to Wishlist
Promise™ II 1512 Sewing Machine Refurbished
Free Shipping & Returns
(continental US)
All the essential features you need to get off to a great start! Online Owner's Class videos for assistance. For your convenience, your machine will arrive pre-threaded. Accessories included are located in the storage area at the front of your machine. Shop compatible accessories
Refurbished: 100% inspected & sew tested to meet SINGER Factory Testing standards
$90+ included accessories
13 essential stitch styles for key sewing techniques
Buttonholes are sewn in 4 easy steps for consistent, polished results
Preset stitch length and width to help eliminate guesswork
Presser foot has an extra high position available to accommodate thick fabrics
Use SINGER Class 15 Transparent bobbins
The Promise 1512 sewing machine has 14 basic stitches from which to choose, selected by the simple turn of a dial. Because the stitch length and stitch width are preset, there's no guesswork, making this a great machine for a hobbyist or even a beginner.
Choose a straight stitch for basic sewing, sew a simple applique with a zigzag stitch, fix a hem with the blind hem stitch, or sew a decorative scallop stitch to embellish almost anything.
The Four-Step Buttonhole feature allows you to add buttonholes in four easy steps on things like pillows, children's clothing, fashions and more. Slide off the removable storage compartment to expose the Free Arm for hemming trousers and sleeves or for sewing other small projects.
An Online Owner's Class Video is also available whenever you want a little extra assistance.
---
Included Accessories ($90 value)
General Purpose Foot, Zipper Foot, Buttonhole Foot, Button Sewing Foot, Edge/Quilting Guide, Pack of Needles, Bobbins (Class 15 transparent), Thread Spool Cap, Spool Pin Felt, Darning Plate, Screwdriver and Seam Ripper/Lint Brush
---
Built-In Stitches (13)
Choose from a variety of stitches for basic sewing, decorative sewing, and more
Four-Step Buttonhole (+)
Buttonholes are sewn in four easy steps, clearly displayed on the Stitch Selector Dial.
Front Loading Bobbin (+)
Built-In Thread Cutter (+)
Trim both the top and bobbin threads with the touch of a button. No need to draw up the bobbin thread to start sewing again.
Darning Plate (+)
Place the darning plate into position over the machine's feed teeth, which prevents the feed teeth from coming in contact with the fabric. Use this for free-motion sewing like stipple quilting, monograms and even for sewing on buttons.
Easy Stitch Selection Dial (+)
Built-in stitches are displayed on the Stitch Selector Dial. Simply turn the dial to select the stitch you want to sew.
Adjustable Stitch Length (+)
Customize the appearance of a stitch by increasing or decreasing the distance between stitches. Use this function for various stitch techniques like applique, basting and more.
Adjustable Stitch Width (5mm)
The size of the stitch from left to right is adjustable, to make the stitch sew narrower or wider as desired.
Reverse (Lever)
Sew stitches in reverse, usually done to secure a seam at the beginning and end to prevent unraveling.
Heavy Duty Metal Frame (+)
The machine's interior frame is metal, providing long lasting durability
High Speed Stitching (750/min)
Professional speed for faster results.
Free Arm (+)
Slide off the Removable Storage Compartment for access to the free arm, making it easy to sew trouser hems, sleeve cuffs and other smaller or tubular projects
Snap-On Presser Feet (+)
Presser feet can be easily removed and attached when needed for various sewing techniques
Extra High Presser Foot Lifter (+)
Presser foot has an extra high position available to accommodate thick fabrics.
Variable Needle Positions (+)
Adjust position of needle as desired for various sewing techniques like topstitching, edgestitching, zipper application, piping insertion and more
Twin-Needle Function (+)
For stitches other than the straight stitch, this function reduces stitch width for sewing with a twin needle so the needles clear the presser foot while sewing.
Bobbin Class (15 Transparent)
SINGER or INSPIRA branded bobbins are recommended for best results
Machine Size (14 x 6.4 x 12)
Machine Weight (10.8)
Box Size (16 x 9 x 13.5)
Amps (0.6)
Watts (72)
Volts (120)
Hz (60)
Warranty (90 day / 2yr / 24yr)
Find Complete Warranty Terms Here
---
---
---
---
Sewing-Made-Easy Videos Below
---