Skip to main content
https://svpworldwide.widen.net/content/zkzmhgoghy/jpeg/M3220_Sewing_Machine_Beauty.jpeg?position=c&color=ffffffff&quality=80&u=xyrryw/upload/q_auto,f_auto/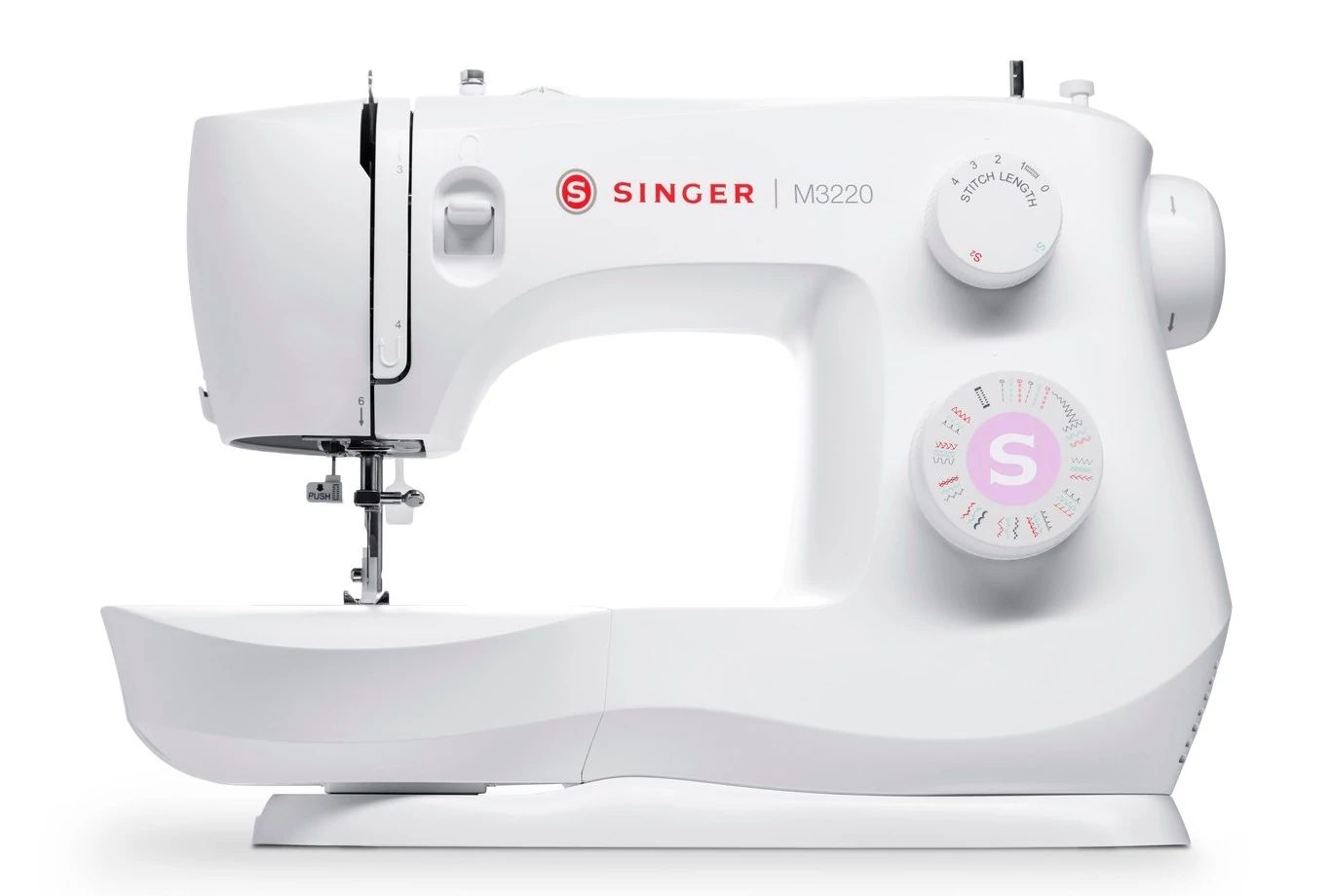 Added to Wishlist
M3220 Sewing Machine
Free Shipping & Returns
(continental US)
Modern design and great basic features. For your convenience, your machine will arrive pre-threaded. Accessories included are located in the storage area at the front of your machine. Shop compatible accessories
$110 included accessories
108 Stitch Applications for any fabric: basic, stretch, decorative
Easy one-step buttonhole for consistent results every time
Fast Drop & Sew™ bobbin placement for easy thread pick up
5.7" sewing space (needle to tower) and 4.2" height
Use SINGER Class 15 Transparent bobbins
The SINGER® M3220 mechanical sewing machine can accomplish 108 unique stitch applications and includes an automatic one-step buttonhole. This machine comes with 4 presser feet to provide a full range of creativity and customization.
The Drop&Sew™ Bobbin System makes loading the bobbin and monitoring the bobbin's supply easy. Add the top drop-in bobbin together with simple and defined threading steps and you will be ready to sew in no time!
Stitch options are clearly displayed on the Stitch Selector Dials, just turn the dial to select your stitch. A well-lit sewing space is always important – illuminate your sewing space to see your projects clearly with StayBright™ LED lighting.
This machine is perfect for any sewist – from the hobbyist to the advanced.
---
108 Stitch Applications
A stitch application is a specific technique you can do with a selected stitch.
Included Accessories ($110 value)
General Purpose Foot, Buttonhole Foot, Button Sewing Foot, and Zipper Foot, Bobbins (Class 15 transparent), Darning Plate, Pack of Needles, Auxiliary Spool Pin, Seam Ripper/Lint Brush, Spool Cap and Edge/Quilting Guide.
---
Stitch Applications (108)
A Stitch Application simply means a specific sewing technique that you can do with a selected stitch. Basically, Stitch Applications are all the different things you can actually DO with your machine!
Online Owner's Class (+)
Learn your machine's basics like threading the machine correctly, selecting stitches, making a buttonhole, changing the needle and more. Available online whenever your are!
SINGER Sewing Assistant App (+)
Use this App to help you learn about the parts of the machine, how to set up the machine to start sewing including threading the top of the machine and the bobbin, how to select stitches for various techinques, and more.
Built-In Stitches (29)
Choose from a variety of stitches for basic sewing, decorative sewing, and more
One-Step Buttonhole (+)
Buttonholes are sewn in one easy step. Just place the button in the buttonhole foot and the machine sews a buttonhole perfectly sized for that button, delivering consistent results every time.
Top Drop In Bobbin (+)
Easy to thread and easy to see! The transparent bobbin and cover allow you to monitor your thread supply so you don't run out of thread in the middle of a seam.
Darning Plate (+)
Place the darning plate into position over the machine's feed teeth, which prevents the feed teeth from coming in contact with the fabric. Use this for free-motion sewing like stipple quilting, monograms and even for sewing on buttons.
Easy Stitch Selection Dial (+)
Built-in stitches are displayed on the Stitch Selector Dial. Simply turn the dial to select the stitch you want to sew.
Adjustable Stitch Length (+)
Customize the appearance of a stitch by increasing or decreasing the distance between stitches. Use this function for various stitch techniques like applique, basting and more.
Reverse (Lever)
Sew stitches in reverse, usually done to secure a seam at the beginning and end to prevent unraveling.
Heavy Duty Metal Frame (+)
The machine's interior frame is metal, providing long lasting durability
LED Lighting (+)
Long lasting LED lighting provides bright illumination and stays cool to the touch
Free Arm (+)
Slide off the Removable Storage Compartment for access to the free arm, making it easy to sew trouser hems, sleeve cuffs and other smaller or tubular projects
Snap-On Presser Feet (+)
Presser feet can be easily removed and attached when needed for various sewing techniques
Sewing Space (Needle to Tower) (5.7")
The distance between the needle and the main part of the machine. Having a generous "C" space allows you to sew larger projects like quilts with ease.
Bobbin Class (15 Transparent)
SINGER or INSPIRA branded bobbins are recommended for best results
Needle Recommendation (2020)
Machine Size (16.4 x 7.4 x 13)
Machine Weight (14)
Box Size (18.5 x 10.24 x 13.78)
Amps (0.5)
Watts (60)
Volts (110)
Warranty (1yr / 25 yr)
Find Complete Warranty Terms Here
---
---
---
Singer Sewing Assistant App
Custom made sewing tutorials for your specific sewing machine with step-by-step instructions and animations.
Google Play: Android 4.0.3 and up
Apple: iOS 8.0 or later. Compatible with iPhone, iPad, and iPod touch.
---