Why Buy Singer
Reason #1: Included Accessories.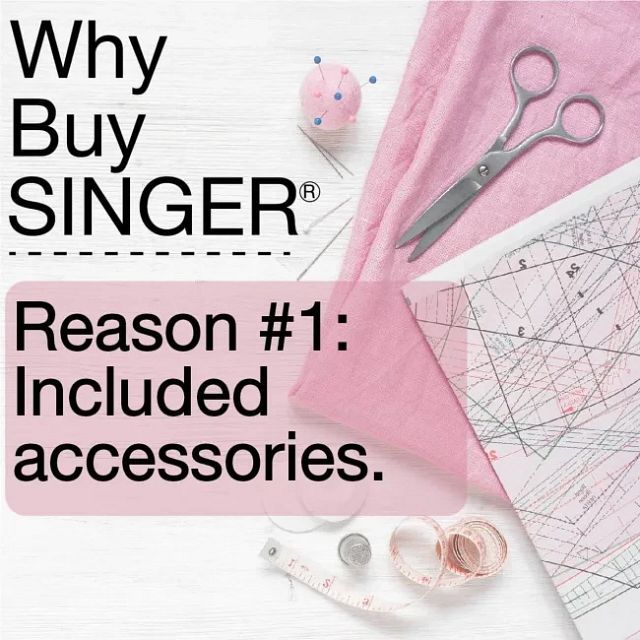 We've got the essentials. You should have them, too. 
Most of our machines come packaged with must-have accessories. Almost everything you need to get started sewing can be found in one box. Learn more about the included accessories and attachments, and push your creativity to the max.
Cut and remove stitches with ease using a seam ripper. Make sure you're using it correctly by pressing the ball-tipped end of the seam ripper against your fabric. This way, you can glide through stitches without any snags.
Bobbins are the small spools on which the lower thread is wound. Pay close attention to the bobbin class that comes packaged with your machine. Bobbins aren't a one-size-fits-all accessory. Be sure to consult your manual for tips on using the correct bobbin for your machine. 
Curious about bobbin types? Click here to learn more.
Pro Tip: As an effort to be more environmentally conscious, our machine manuals are now offered exclusively online! You can find yours here.
The right presser foot can elevate your project. Many of our machines come packaged with the essential presser feet. The All-Purpose foot is great for general sewing and zig-zag stitches, but do you know what your other feet can do? The most intimidating sewing projects can be made simple with the right presser foot.
Take a look at some of our faves. We packaged them together in our Presser Foot Kit. See them in action:
This accessory might be easy to overlook, but your machine needs its regular tune up. Dusty gears can contribute to common sewing problems, so it's important that you put that lint brush to use. Clean up those nooks and crannies to make sure your machine gears move with ease. Watch this video to learn more about sewing machine TLC.
Some of the best basic accessories are delivered to you with your machine--at no additional charge! 
Make sure you're taking your creativity to the next level by using everything that comes with your sewing machine.