Skip to main content
https://svpworldwide.widen.net/content/ufamfhxnuf/jpeg/Singer_Legacy_C440Q_Sewing_and_Quilting_front_view_jcxrry.jpeg?position=c&color=ffffffff&quality=80&u=xyrryw/upload/q_auto,f_auto/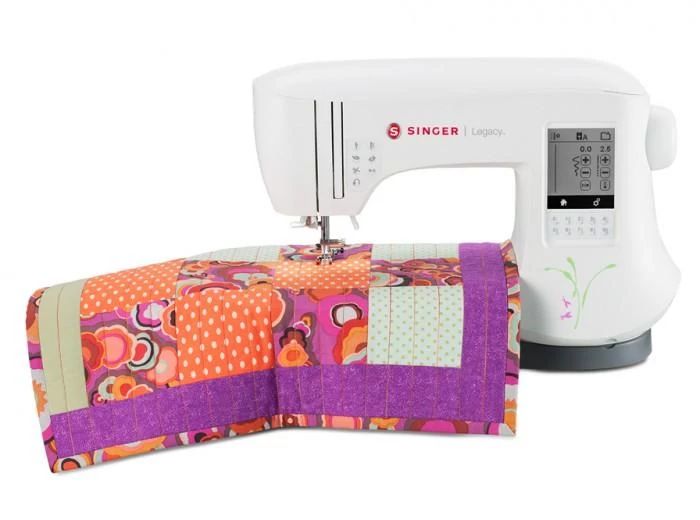 Added to Wishlist
Legacy™ C440Q Sewing and Quilting Machine
With its sleek and modern design, this machine has high-end features that every sewing enthusiast will love. Your machine may come pre-threaded for your convenience. Accessories included are located in the storage area at the front of your machine. See compatible accessories
$275 included accessories
200 stitches for any fabric: basic, decorative, quilting
LCD Screen shows stitch selections and settings
Stitch sequencing memory to create unique combinations
Speed control for precision or high volume
Use SINGER Class 15 Transparent bobbins
The Legacy C440Q sewing machine has 200 built-in stitch patterns including satin stitches, stretch stitches, decorative stitches – even quilting & heirloom stitches. Your stitch selection displays on the large LCD Touch Screen. You can mirror image, as well as adjust stitch length, width and density, providing even more creative options.
Alpha-numeric stitch patterns are built in, which can even be combined with decorative stitches to create unique stitch sequences, then saved in one of the machine's built-in memories for personalizing gifts, quilts, children's clothing and much more.
Set your machine's maximum sewing speed just the way you want it with the Speed Control. Lower the machine's feed teeth for free-motion sewing like stipple quilting or free-motion monogramming. Trim threads with a touch, using the convenient Thread Cutter Button.
If you feel like you want a little assistance, there's an online Owner's Class video you can view anytime.
Bonus quilting accessories are included as well: the Darning/Embroidery Foot for free-motion sewing and monograms, and the Even Feed/Walking Foot to help prevent quilt layers from shifting while you sew.
Included Accessories
General Purpose Foot, Satin Stitch Foot, Overcasting Foot, Blind Hem Foot, Zipper Foot, Buttonhole Foot with Underplate, Straight Stitch Foot, Button Sewing Foot, Open Toe Foot, Embroidery Foot, Parallel Sewing Foot, Darning/Embroidery, Even Feed/Walking Foot, Quilting Bar, Thread Spool Net, Spool Pin Felt, Screwdriver, Needle Plate Screwdriver, Seam Ripper/Lint Brush, Thread Spool Caps, Auxiliary Spool Pin, Bobbins and Pack of Needles
Warranty
General
This warranty applies to products purchased in the United States or Canada. This warranty is made only to the first purchaser (the "Original Purchaser") who acquires this product for his or her own personal/domestic use from an authorized Singer Retailer. They are non-transferable to any subsequent owners. Service under the below warranties may be obtained by returning the product with this warranty document and proof of purchase to the authorized Singer Dealer from whom the machine was purchased or to an Authorized Singer Service Center. Contact us to find the location nearest you. If you have any questions regarding these warranties, please contact us: Customer Care: SVP Worldwide 1-800-474-6437 E-mail: [email protected] 1714 Heil Quaker Blvd Suite 130 LaVergne, TN 37086 Or through our website: www.singer.com.
Parts and Conditions Not Covered by Warranty
This Warranty is for household (non-commercial) use and does not cover conditions unrelated to the material or workmanship of the product. Such unrelated conditions include, but are not limited to: (a) damage caused by current or voltage other than that stamped on the name plate of the product; (b) damage resulting from the failure to provide normal maintenance; (c) Failure to follow instruction for use of the product as stated in the owner's manual; (d) any accident to, or misuse of, any part of the product; and (e) any defects or damage caused by service or alteration by anyone other than Singer or an authorized Singer Service Center; and (f) Sewing materials that may be corrosive to metal or finish.
Limited 25-Year Warranty
Product Frame
The product frame is warranted to be free from manufacturing defects for a period of twenty five (25) years from the date of purchase. If any manufacturing defect appears in the product frame within twenty five (25) years of purchase, we will provide free replacement parts, but at your cost for shipping and/or labor.
Limited 2-Year Warranty
Electronic/Electrical Parts
The electronic/electrical parts of the product are warranted to be free from manufacturing defects for a period of two (2) years from the date of purchase. If any manufacturing defect appears in these parts within (2) years of purchase, we will repair or replace any part which proves to be defective from workmanship or material, but at your cost for shipping and/or labor.
Limited 90-Day Warranty
Mechanical Parts and Adjustments
The mechanical parts of the product are warranted to be free from manufacturing defects for a period of ninety (90) days from the date of purchase. If any manufacturing defect appears in these parts within (90) days of purchase, we will repair or replace any part which proves to be defective from workmanship or material without charge to you for parts or labor.
Limitations on Relief: In no event shall Singer be liable for incidental or consequential damages. Some states/provinces do not allow the exclusion or limitation of incidental or consequential damages, so the above limitation or exclusion may not apply to you. Any implied warranty, including the implied warranty of merchantability and fitness for any purchase, is limited to the duration of this limited warranty. Some states/ provinces do not allow limitations on how long an implied warranty lasts, so the above limitation may not apply to you. This warranty gives you specific legal rights and you may also have other rights which vary from state/province to state/province.
---
Online Owner's Class (+)
Learn your machine's basics like threading the machine correctly, selecting stitches, making a buttonhole, changing the needle and more. Available online whenever your are!
Built-In Lettering (+)
Personalize projects with words, phrases or monograms
Mirror Imaging (+)
Invert stitch patterns from side to side for more creative options
Built-In Stitches (200)
Choose from a variety of stitches for basic sewing, decorative sewing, and more
One-Step Buttonhole (13)
Buttonholes are sewn in one easy step. Just place the button in the buttonhole foot and the machine sews a buttonhole perfectly sized for that button, delivering consistent results every time.
Built-In Needle Threader (+)
Effortlessly threads the eye of the needle - eliminates eye strain and saves you time
Top Drop In Bobbin (+)
Easy to thread and easy to see! The transparent bobbin and cover allow you to monitor your thread supply so you don't run out of thread in the middle of a seam.
Built-In Thread Cutter (+)
Trim both the top and bobbin threads with the touch of a button. No need to draw up the bobbin thread to start sewing again.
Drop Feed (+)
Feed teeth can be lowered for button sewing or free-motion sewing - a must-have for quilters! Simply slide the Drop Feed Lever to lower the feed teeth. Slide it back and turn the handwheel one full turn to raise the feed teeth again.
Adjustable Stitch Length (+)
Customize the appearance of a stitch by increasing or decreasing the distance between stitches. Use this function for various stitch techniques like applique, basting and more.
Adjustable Stitch Width (+)
The size of the stitch from left to right is adjustable, to make the stitch sew narrower or wider as desired.
Self-Adjusting Tension System (+)
Select your stitch, and the machine will adjust the tensions for your selected stitch automatically, saving you time.
Reverse (Touch Button)
Sew stitches in reverse, usually done to secure a seam at the beginning and end to prevent unraveling.
Heavy Duty Metal Frame (+)
The machine's interior frame is metal, providing long lasting durability
High Speed Stitching (800/min)
Professional speed for faster results.
Speed Control (Touch Button)
Set the maximum sewing speed of the machine
Start/Stop Button (+)
Allows you to sew without using the foot control, if desired. Press the button to start sewing, then press again to stop sewing.
Needle Up/Down (+)
Select the needle's stopping position on demand
Programmable Needle Up/Down (+)
Set the needle's stopping position as desired. Press to have the needle stop down in the fabric each time you stop sewing, great for applique, topstitching and more.
LCD Screen (+)
LCD screen clearly displays your selected stitch as well as stitch settings for length and width.
Touch Screen (+)
Touch the LCD screen to select stitches and stitch settings, view recommended presser foot and more
Snap-On Presser Feet (+)
Presser feet can be easily removed and attached when needed for various sewing techniques
Variable Needle Positions (+)
Adjust position of needle as desired for various sewing techniques like topstitching, edgestitching, zipper application, piping insertion and more
Twin-Needle Function (+)
For stitches other than the straight stitch, this function reduces stitch width for sewing with a twin needle so the needles clear the presser foot while sewing.
Bobbin Class (15 Transparent)
SINGER or INSPIRA branded bobbins are recommended for best results
Needle Recommendation (2000, 2020, 2001, 2045, 2032)
Machine Size (20.2 x 9.5 x 12.1)
Machine Weight (20)
Box Size (23.3 x 11.8 x 17)
Amps (0.46)
Watts (55)
Volts (110 or 220)
Warranty (24yr / 2yr / 90 day)
Find Complete Warranty Terms Here
---
---
---
---